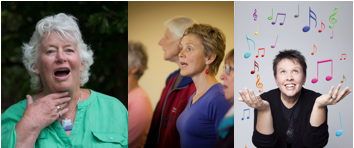 A fun and supportive workshop filled with practical tips
and techniques for singing, and for life.
Saturday 2 February 2019, 10.00am - 4.00pm
The Old Bellerive Library
59 Cambridge Road, Bellerive
BOOKINGS HAVE NOW CLOSED FOR THIS WORKSHOP
After the success of our weekend (two-day) workshops in 2017, we have created a one-day experience especially for those who aren't able to commit to a full weekend. 
Do you want to get to know and extend your voice with ease? Maybe you're wondering what's next for your singing. Maybe you'd like to deepen your experience, find more enjoyment, build confidence in your voice. 
The workshop brings together the combined experience and expertise of three leading practitioners - Elke Rudolph (Body), Helen Sjardin (Voice) and Jane Christie-Johnston (Song) - in a relaxed environment where you can play and explore, free from any need to perfect or to perform. 
 
Reflecting the fact that singing is an integration of a number of skills, the special perspectives and passion shared by your three facilitators will allow you to experience new combinations of your body, voice and song.
You will explore how to free up the potential of your voice through subtle transformations in the ways you breathe, sit, stand, walk and move. You will gain a different understanding of your body as the instrument of your voice. 
Learning, exploring and singing together as a group, you'll put your new skills into practice within the workshop setting, and you'll leave with physical and vocal techniques that will help you in all areas of your life.
Saturday 2 February 2019
59 Cambridge Road, Bellerive
(The Old Bellerive Library)
10.00am - 4.00pm
(venue open from 9.30am)
Registration:
$180 full / $160 concession / $450 group of three
Bookings essential - no door sales
BOOKINGS HAVE NOW CLOSED FOR THIS WORKSHOP

Note: A discount is available to anyone who has previously attended one of our Body Voice Song workshops
- please email jane@tadaa.com.au for details.

IMPORTANT INFORMATION:
This workshop is recommended for participants aged 15+. Participants aged under 18 years must attend with a paying adult (no observers). 

Please contact us if you have any questions about this. 

The workshop includes a 30-minute bring-your-own or buy-your-own lunchbreak -

we recommend bringing a packed lunch (there is a fridge onsite if you need to keep your food cold).

Teas, coffee and biscuits (including a gluten-free option) will be provided for the morning and afternoon teabreaks. Please bring your own mug to help us reduce the number of disposable cups required.

Please wear comfortable clothes and shoes, and bring a water bottle.

Onsite and street parking near the workshop venue is free.
If you have any questions about this workshop,
please contact Jane, email jane@tadaa.com.au or phone 0409 54 74 74.
BOOKINGS HAVE NOW CLOSED FOR THIS WORKSHOP
----------------------------------------------
ELKE RUDOLPH
Elke is an experienced Physiotherapist and Alexander Technique Teacher and has spent the last 18 years helping people coordinate postural support with breathing and movement. Elke focuses on the integration of Physiotherapy with the practical body awareness of the Alexander Technique for increased ease, efficiency and wellbeing. She's been singing in community choirs for over 10 years and uses these techniques herself to enhance her singing experience.
• For you to understand and experience how your own sitting and standing postures affect your postural support, breathing and voice.
• For you to learn how to consciously reduce tension in your body, by supporting yourself in a way that's more closely aligned to your body's design.
• For you to enjoy exploring how subtle changes in your body and thinking can create more openness, expansion and ease in your body and flexibility of your voice.
Helen has worked as a Speech Pathologist in health and educational settings in Hobart, Perth (WA) and Holland since graduating in 1965. In the last 17 years she has worked in Private Practice including specialisation in Voice, both disordered and with an occupational health focus.  For the past four years she has been the President of the Australian Voice Association, recently co-creating the National Voice Meeting with modules on Performance Voice and Ageing Voice. 
She has conducted Voice Care workshops for a range of teachers, and students around Australia, aiming to increase awareness of the complexity of voice production and improve efficiency. 
This opportunity to work collaboratively with Jane and Elke reaffirms for her the importance of 'singing from the same song-sheet' with an integrated, whole of body approach to the gift of song that brings us all together in joy and harmony.
• For you to increase awareness of how your voice is produced (including volume, tone, pitch, resonance and articulation).
• For you to explore different aspects of your voice in a playful and safe environment – NO JUDGEMENT!
• For you to understand the rationale and develop tools for vocal warm-ups and cool-downs.
Jane is the Musical Director of the Sing For Your Life! Choir, a Hobart-based community choir with more than 100 members. She is also an accomplished singer, performing with numerous choirs, a cappella ensembles and guitar/vocal duos during the last 16 years. 
Jane specialises in getting groups of people to sing together - choirs, corporate groups, community workshops, flashmobs, and public 'big sing' sessions - achieving beautiful harmonies even when participants have no singing or musical experience. With the belief that 'everyone can sing' and workshop methods that involve 'no sheet music and no stress', she has an informal style and gives supportive instruction and direction. 
• For you to put into practice the skills and techniques presented by Elke and Helen - to do this we'll sing specially-selected songs and chants with a variety of notes, dynamics and harmonies.
• For you to experience the joy of singing in harmony in a supportive setting with a like-minded group of people.
• For you to leave the workshop feeling that you can sing with greater confidence in future.
This event is currently closed and no contact details are available