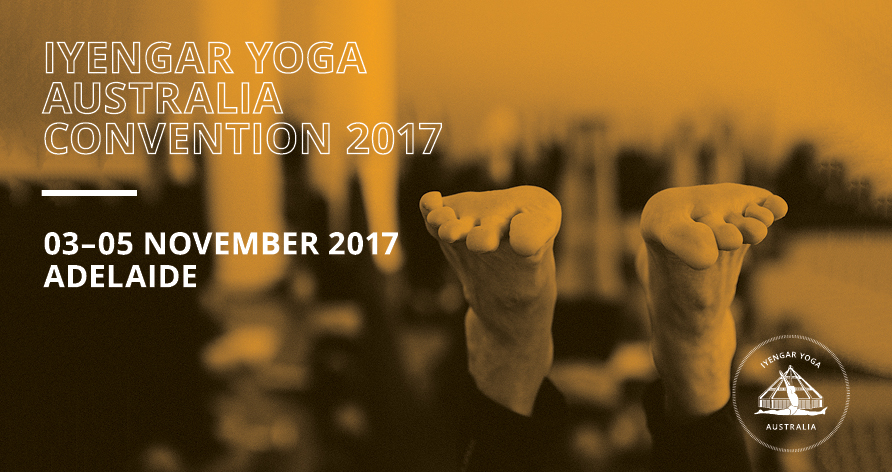 IYENGAR YOGA AUSTRALIA  NATIONAL CONVENTION 2017
This Convention is a key event for the Australian Iyengar Yoga community.  The 2017 National Convention, organised by the Australian Iyengar Yoga Association, provides an opportunity for students to experience Asana & Pranayama classes and workshops given by a number of Senior Teachers, and engage with the Iyengar Yoga Community. This vision goals of this years convention are to:
Promote the 'next' generation Australian Senior teachers, and

Share the knowledge of Australian Senior teachers through teaching and lectures.
Participants
All Participants are required to have had a minimum 2 years regular attendance at Iyengar Yoga classes.
As well as the general level classes, for the first time ever, there will be an optional Advanced class - students must be proficient in the set asanas and pranayama, which can be found on the following page.
PLEASE EMAIL EVENTS@IYENGARYOGA.ASN.AU IF YOU WOULD LIKE TO BE PUT ON THE WAITING LIST FOR EITHER THE GENERAL OR ADVANCED SECTION.
Cost
Early Bird Members (pre-June sales) $390
Early Bird Non-members (pre-June sales) $440
Members $440
Non-members $470
Membership must be to an Iyengar Yoga Association, Australian or International.
Included in the ticket cost is:
4 x Asana classes

2 x Pranayama classes

2 x lectures by Senior teachers

Vedic Chanting session

Welcome Dinner, with pre-dinner drinks

1 x Convention t-shirt or singlet (provide details on Booking Page)
Attendees will be required to bring:
Yoga mat, 2 blocks, 1 strap and Sarvangasana blankets or cushions.


Billeting:

Participants wishing to be billeted in Adelaide please contact info@kensingtonschoolofyoga.com
or contact Darrin 0439 490396.
This event is currently closed and no contact details are available