THE GREATEST SHOW FROM AFRICA CIRQUE AFRICA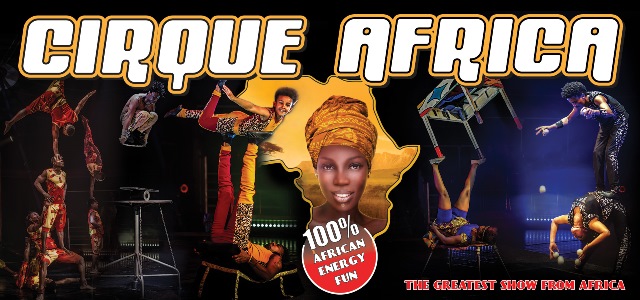 100% African, 100% fun, 100% Cirque Africa
is a one of a kind show that is sure to amaze and enthrall all who see it. 
A 100% African cultural experience, Cirque Africa is a vibrant and highly entertaining blockbuster production which transports each audience to the positive side of Africa through a modern stage performance.
Produced and directed by Papa Africa aka Winston Ruddle, the director who brought you the hit Broadway show Cirque Mother Africa.  Cirque Africa features the world-renowned African troupe, consisting of 25 performing artists from 6 African countries including acrobats, dancers, percussionist, musicians and contortionists, performing a 100 minute awe-inspiring show.
Highlighted with stunning colorful African costumes, high energy knuckle-biting acrobatic acts, humorous comedy, traditional, modern original composed music for each act plus vibrant dance routines, this is a superb show for all ages of the family.
A visual show, Cirque Africa has no language cultural or religious barriers, Cirque Africa is fresh, funky, bold, fun and challenges your imagination like no other show.  The dedication and immense professionalism of Cirque Africa makes this show very appealing to all audience members.  Discover The Greatest show from Africa

 Venue:
 

Forge Theatre - Auditorium

 Performance  Times:

 Wednesday 23 August, 7:30 pm

 Duration:
 

2 hours (includes 20 minute interval)

 Ticket Prices:
 Adults: $79.00
 Concession: $69.00 (Seniors/Pensioners)
 Student: $59.00 (High School/Uni)
 Child: $49.00 (14 Years & under)
 Group 8+: $49.00
 Family (4): $179.00 (2 Adults, 2 Children)
 Family (5): $199.00 (2 Adults, 3 Children)
 
Contact: Forge Theatre and Arts Hub
Email: boxoffice@egipps.vic.gov.au
Telephone: 5152 1482
This event is currently closed and no contact details are available