Event Waitlist
Your name has been added to the wait list for this event. The event organiser will contact you through your email address once there are available seats / slots.
Northern Weekender - Friday 9th to Monday 12th June 2017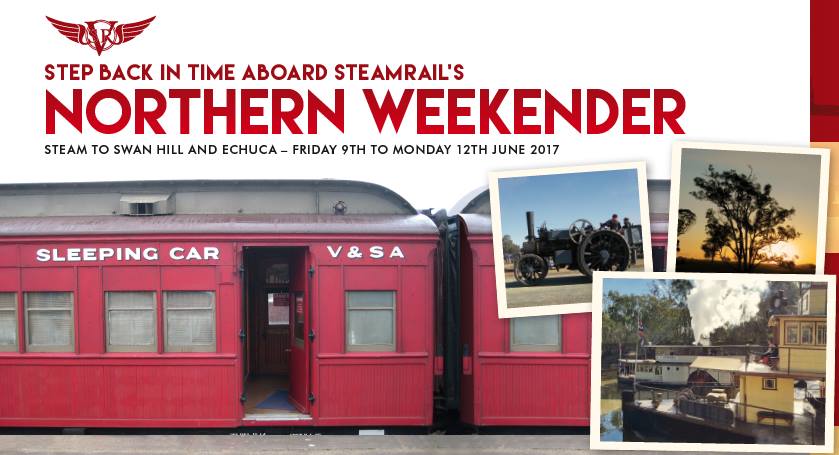 ENSURE YOU BOOK TOUR OPTIONS BEFORE FINALISING PURCHASES - Select "This Event" beside Continue Shopping to be taken back to the main page to be able to add Tour Options to your purchase.

Steamrail invites you to experience the era of long-distance overnight steam-hauled trains as we travel to Swan Hill and Echuca, two of Victoria's most beautiful river destinations. Departing Melbourne on Friday evening, you will enjoy the distinctive sounds of steam as you relax between crisp white sheets in your comfortable sleeping berth. During the night, we will climb the steady grades to Bendigo and sprint through the remote settlements of Dingee, Pyramid Hill, and Mitiamo. While you sleep, our steam locomotive will be watered and serviced at selected stops. We will be making a stop at Kerang to enjoy the country hospitality of this town for a country cooked breakfast and market. After waking to the delightful sights and sounds of the Murray River, enjoy Saturday exploring historic Swan Hill at your own leisure.
Alternatively, those who choose Option 1 will be taken by coach to the fascinating Pioneer Settlement Museum, which will include a one hour cruise on the PS Pyap with morning tea served on the boat, free time to explore the museum, with a vintage car ride or horse drawn ride. After a two course lunch in the Paragon cafe you will be transferred to the Catalina Boat Museum then returned back to Swan Hill at 4pm. There is also an opportunity to enjoy the action of the Swan Hill June Racing Carnival for those who choose Option 2. A late night departure will see us retracing our steps to Bendigo, where the engines will be turned and serviced. Setting off in the still of night, we will creep through Rochester and Elmore before arriving in Echuca early morning.
There is so much to see and do in Echuca. Explore the rich history of the region with its art, culture, food, wine, and picturesque landscapes; or inspect the Port of Echuca and cruise the Murray on the paddle steamer 'Emmylou' (see Option 4). Fans of steam locomotion may like to attend the famous Echuca steam rally, an annual event that has been running for many years (see Option 7). Monday morning we will say farewell to Echuca as we go back the way we came, but this time in daylight. Enjoy the shimmering beauty of the Campaspe River region, historic tunnels at Big Hill and Elphinstone, and the spectacular views afforded by the Taradale Viaduct and various stone bridges. Our journey will conclude late that evening as we alight at Southern Cross with many wonderful memories.
Please note: All linen is supplied in the sleeping carriages.
Our on-train facilities include kiosks, which stock a wide range of light refreshments, sandwiches, souvenirs and hot and cold drinks. A licensed bar will also be open serving a range of wine, beers and spirits. Our courteous train officers will be on hand throughout the journey to provide any assistance to ensure an enjoyable and safe journey.
Breakfast is included each morning for all passengers at no extra cost.
OPTION 1 - SATURDAY DAY TOUR
OPTION 2 - SATURDAY DAY TOUR
OPTION 3 - SATURDAY HEARTBEAT OF THE MURRAY LASER SPECTACULAR
OPTION 4 - SUNDAY LUNCHEON CRUISE
OPTION 5 - SUNDAY CRUISE ON THE CANBERRA
OPTION 6 - SUNDAY ECHUCA DAY PASS
OPTION 7 - SUNDAY ECHUCA STEAM RALLY
OPTION 8 - SUNDAY RIVERLIGHTS SPECTACULAR
SUBJECT TO CHANGE. PLEASE CHECK THE TIME

SHOWN ON YOUR TICKETS.
SOUTHERN CROSS DEPART (FRIDAY NIGHT) 10.20pm
SWAN HILL ARRIVE (SATURDAY MORNING) 9.05am
SWAN HILL DEPART (SATURDAY NIGHT) 10.00pm
ECHUCA ARRIVE (SUNDAY MORNING) 6.15am
ECHUCA DEPART (MONDAY MORNING) 9.40am
BENDIGO DEPART (MONDAY AFTERNOON) 1.55pm
SOUTHERN CROSS ARRIVE (MONDAY EVENING) 5.30pm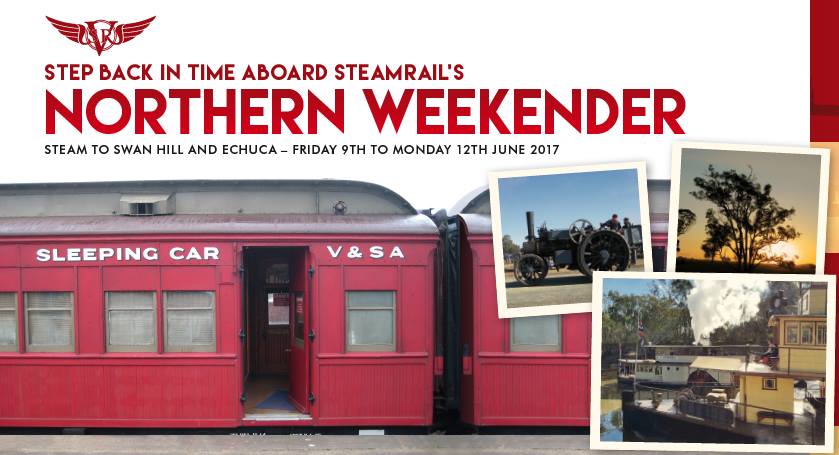 ENSURE YOU BOOK TOUR OPTIONS BEFORE FINALISING PURCHASES - Select "This Event" beside Continue Shopping to be taken back to the main page to be able to add Tour Options to your purchase.
This event is currently closed and no contact details are available