Event Waitlist
Your name has been added to the wait list for this event. The event organiser will contact you through your email address once there are available seats / slots.
BROKER ESSENTIALS - Sales through service excellence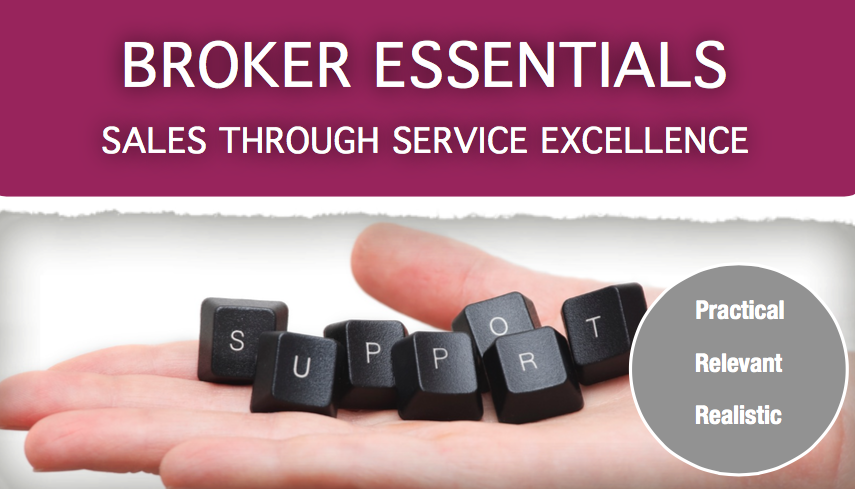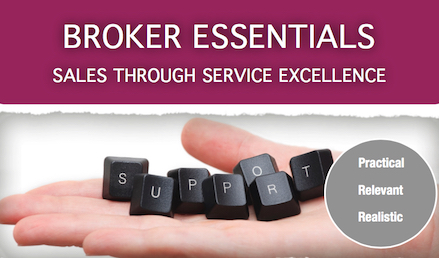 Write more - 'sell' less
 Supporting brokers to build a predictable pattern of business growth
Is this you?
• New to the broking industry and want to last past 18 months?
• Completed your certification but need on-the-job training?
• Seasoned professional who needs to outsource your admin?
• Need to tighten compliance and still delight the client?
• Want to speed up settlements to unlock trapped revenue?
• Need to even out your cash flow cycles?
• Want more sales without having to 'sell'?
Stand out from the crowd and write more business!
In an industry where customers are looking for choice and advice from over 400 lenders, 14,300 credit advisers, 6,000 brokerages and 7,000 bank staff, quality service has never been more important. You cannot compete on price alone. Your service proposition both before, during and after the customers needs have been met will determine if you have a customer for now or a client for life. In an industry where client referrals make up over 75% of new business for the majority of non major brokerages your service will define your success.
Both existing and new to industry brokers are under constant pressure to maintain both service excellence and knowledge in an ever changing marketplace.
Standing out from the pack and getting more clients is not just about sales and social media, it's about solid business practices. 
The Elite Brokers focus on the key activities that help them write more, sell more effectively, and manage their client expectations.
Is your business fit for the fast track?
It's about building a clear process for every part of your business, being consistent with your service and delivering what you promise. 
This program aims to:
Accelerate broker and administration staff development

Refine technical expertise

Fast track industry experience

Bridge the 'hands-on' training gap

 

Tighten compliance

 

Reduce rework and increase efficiency

Increase revenue without more hard selling

Supplement sales strategies for increased return on activity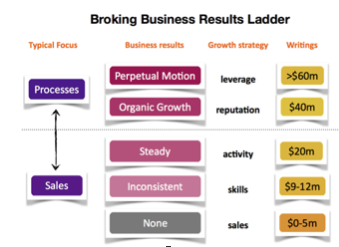 Program contents
This is a one day workshop designed to cover the fundamentals of running a successful broking business. Whether you're a one man band in your first year or you run a team of lenders with administration staff, Broker Essentials will create a consistent activity platform from which to accelerate your business growth through service excellence. 
Focused on the three core elements of building a successful brokerage, the program covers:
Process Fundamentals
Understand the benefit and use of detailed process guides for the end to end client journey

Ensure Straight Through Processing and a faster time to 'yes'

Improve compliance without compromising the client experience
Measurement Analytics
Learn what to track in your business and why

Understand the current state of play for your business and how to achieve your business goals

Discover where you are losing money on deals

 
Client Journey 
Introduce the Client Roadmap

Manage client expectations through the loan process and build strong relationships even when things go wrong

Ensure effective and consistent communication
Participants will receive:
 

A workbook

 A subscription to 'Learning bites' - email reminders to sustain the learning focus, accountability and application after the training

 Sticky Learning Guide to embed learning and make new habits stick

 6.5 CPD points (tbc)

 An invitation to fast track application through Action Learning Clubs
Learn from the Best in the industry!
With over 25 years finance experience and now leading the most awarded brokerage in Australia
Jason Back -  Jason has spent the past 5 years as the Managing Director of The Australian Lending and Investment Centre, the most awarded brokerage in Australia. He has lead the growth and development of over 35 staff including 12 brokers and 23 administration/support staff. 
Jason is passionate about education and improving the 'financial fitness' of the Australian public. He has conducted hundreds of seminars over the past 20 years, his key intent being to encourage Australians to better look after their finances to guarantee independence into retirement.
Anneli Blundell - The learning design and co-facilitation of this program is supported by Anneli, a behavioural change expert. Anneli has been working with leaders and organisations to fast track their business results for over a decade. 
Anneli is the co-author of Developing Direct Reports: Taking the guess work out of leading leaders, a practical guide for developing performance at work. 
VENUE:
VU Convention Centre, Level 12, 300 Flinders Street, Melbourne CBD 3000.
This event is currently closed and no contact details are available