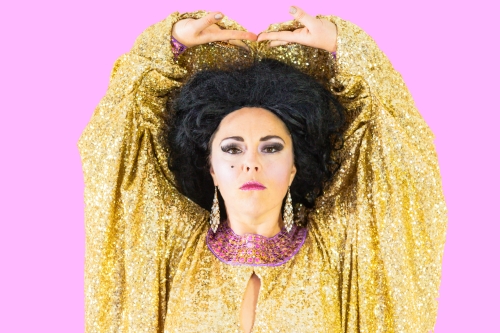 Yana Alana Covered
Friday 5th May 7.30pm
Alexandra Oval Community Centre
'Yana Alana is without a doubt the first lady of cabaret. Outlandish, bawdy and slightly unhinged, she is worthy of cult status.' Melbourne Observer
Written by Sarah Ward, Music arranged by Sarah Ward, Bec Matthews & Louise Goh, Musically Directed by Bec Matthews, Directed by Anni Davey , Set & Costume by Alice Swing, Lighting Design by Monique Aucher
Yana Alana is infamous for her nude, rude and lewd cabaret appearances. In a risque? act of defiance this camp, bouffant, drag diva will appear on stage with her all-female band – fully clothed!
A very special performance for those of us yearning for Yana to bear her soul but not her arse. Joined by The Paranas featuring Bec Matthews and Louise Goh with songs made famous by Nina Simone, Tom Waits, Shirley Bassey, Laurie Anderson and Joy Division.
'I don't care who you are; but I promise you will love this show. Take your dad, take your girlfriend, hell, take your grandma. You don't want to miss it.' Planet Arts Melbourne ?????
Duration 60 minutes
Adults Only 18+ Strong Language
Theatre, cabaret
Tickets $25 F | $20 C


VENUE: Alexandra Oval Community Centre
DATE: Friday 5th may
TIME: 7.30 pm
TICKETS: $25 F | $20 C | $200 Group
CONTACT DETAILS: Ararat Performing Arts Centre, Cnr Barkly & Vincent Streets, Ararat. 3377
Phone: 03 5352 2181 Email: pac@ararat.vic.gov.au
Tickets purchased as 'Concession' will require the presentation of a valid Concession Card on entry to the Show or Event.
TICKETS ARE NON-REFUNDABLE EXCHANGE OF TICKETS WILL INCUR A FEE
CREDIT CARD FEES WILL APPLY FOR CREDIT CARD PURCHASES

This event is currently closed and no contact details are available