THE WITCHES By Roald Dahl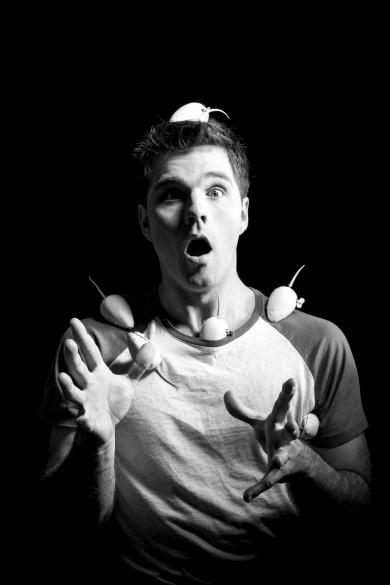 The Witches by La Boit Theatre
Willaura Memorial Hall
Thursday 29 June 10.00am
By Roald Dahl
Adapted for the stage by David Wood
Re-imagined by Lucas Jervies
When one little boy unwittingly stumbles into the annual meeting of witches, he hears their nasty plan to get rid of all the children in the world – by turning them into mice! It's going to take smarts and sneakiness to stop them and not get squished in the process.
Think you can outwit a witch and outrun a mouse? Then grab a seat in the front row for The Witches, bursting onto the stage as a mind-boggling and madcap one-man show.
Brave boys and girls, rat-racers and retirees are in for a wicked and wonderful time. Lucas Jervies directs this bubbling concoction, based on David Wood's adaptation of the Roald Dahl classic, with one actor running amok in a virtuosic physical performance.
Recommended for ages 6 and over.
"It is a play for everyone that children will enjoy as much as adults. It plays like a Pixar film directed by David Lynch." Theatrepeople.com.au
"Performed by a single actor…who shifts from character to character without drawing breath, this interpretation of Dahl's scariest tale is full of life, physical movement, mischief and even audience interaction as people are singled out for witchery." Helen Musa, City News
Duration 90 minutes
Suitable for all ages
Theatre, drama, children
Tickets $10
CONTACT DETAILS: Ararat Performing Arts Centre, Cnr Barkly & Vincent Streets, Ararat.  3377              Phone:  03 5352 2181   Email: pac@ararat.vic.gov.au
Tickets purchased as 'Concession' will require the presentation of a valid Concession Card on entry to the Show or Event.
 TICKETS ARE NON-REFUNDABLE                                     EXCHANGE OF TICKETS WILL INCUR A FEE
CREDIT CARD FEES WILL APPLY FOR CREDIT CARD PURCHASES
This event is currently closed and no contact details are available