Olive Kids' 9th Annual Fundraising Dinner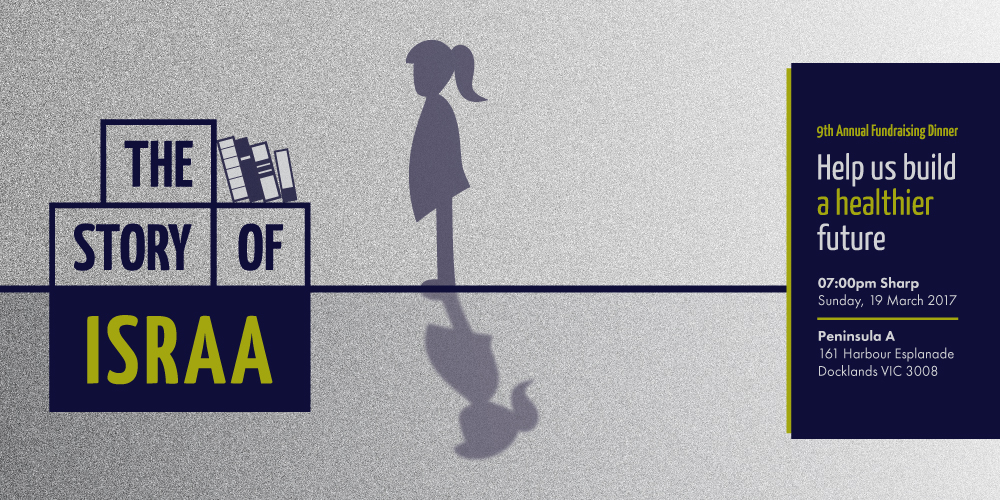 Update: Please note the dinner is now at capacity and ticket sales have closed.  To join the waiting list please email us at info@olivekids.org.au
We would like to thank everyone for their support!
2017 Campaign & 9th Annual Fundraising Dinner - 'The Story of Israa'
Venue: Peninsula A, Shed 14, Central Pier, 161 Harbour Esplanade, Docklands, Melbourne
Date: Sunday 19 March, 2017
Time: 7pm
We invite you to take part in our 2017 campaign - The Story of Israa - by either attending our fundraising dinner or making a donation. Guests attending the dinner will enjoy a three-course culinary experience prepared once again by our friends at Dineamic - former footballer Jason Johnson and international award-winning chef John Casey. The night wouldn't be complete without our fundraising raffle & auction, and will see the return of the ever popular photo booth, but be prepared for some surprises, and stay tuned for more details.
Unlike our previous campaigns, 'The Story of Israa' is not just a campaign title, it is a personal and real story. The story of a beautiful young Palestinian girl seeking a warm home, good education and basic health care.  
To help Israa and the thousands of 'Israa's' in Palestine and refugee camps, this year we will focus on addressing education needs in general, with a particular focus on those in the health sector. We will also continue funding the next phase of the Olive Kids wing at Al-Amal Orphanage to house children under 5 years old. 
 
This year, we are aiming to raise funds to: 
- Raise $60,000 to fund 5 full-year nursing scholarships in Gaza
- Collect $95,000 to complete the required funding of a new floor at Al-Amal Orphanage to house 60 young children
- Raise $25,000 to supply education supplies to the Syrian & Palestinian Children at Zatari refugee camp
- Sponsor 25 new children at Al-Amal Orphanage
If you are unable to attend but would like to support, please continue and select the donation ticket type, or see olivekids.org.au/#programs for information about our orphan sponsorship program.
For further enquiries or to sponsor an orphan please email us at info@olivekids.org.au 
This event is currently closed and no contact details are available