Hunter Valley Easter Steam Trains
Tickets for this event have been suspended pending confirmation of rollingstock availability and track access. 
The Lachlan Valley Railway appologises for any inconvenience. We hope to have more information in hte coming days.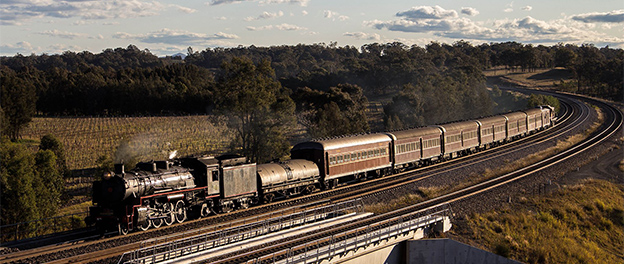 Join the LVR in the Hunter Valley this Easter for your last chance to ride behind locomotive 5917 for some time. By purchasing your ticket on any of our Easter trains, you will be helping raise funds to for our upcoming restoration of 5917.
Choose from a variety of trips, from a morning or afternoon trip from Singleton to Maitland (return) hauled by steam all the way to steam shuttle trains from Muswellbrook to Scone, Ravensworth or Sandy Hollow on the beautiful (usually) freight-only Ulan line.
Bring the family along to experience the way rail travel was in our open-windowed, side-corridor compartment carriages from the 1930s. Listen to the characteristic beat of our American Baldwin steam engine and hear the haunting 'riverboat'  whistle.
Trips & Fares:
Hurry! Early Bird Savings of 10% are automatically applied for Bookings before Friday, 24th March 2017
Hunter Valley Flyer (Singleton to Maitland return — Steam-hauled all the way)
Fares: $40 Adult — $25 Child — $260 Private Compartment of up to 8 people
Camberwell Shuttle (Singleton to Camberwell return — Steam-hauled all the way)
Fares: $20 Adult — $12 Child
Mangoola Steam Shuttle (Muswellbrook to Mangoola — Steam/Diesel push-pull)
Fares: $25 Adult — $15 Child
Scone Steam Shuttle (Muswellbrook to Scone — Steam/Diesel push-pull)
Fares: $25 Adult — $15 Child
Drayton Steam Shuttle (Muswellbrook to Drayton Jcn — Steam/Diesel push-pull)
Fares: $25 Adult — $15 Child
Ravensworth Steam Shuttle (Muswellbrook to Ravensworth Jcn — Steam/Diesel push-pull)
Fares: $25 Adult — $15 Child
Sandy Hollow Steam Shuttle (Muswellbrook to Sandy Hollow — Steam/Diesel push-pull)
Fares: $40 Adult — $25 Child
Limited numbers of seats will be available at the railway station on the day
Venues:
Singleton Railway Station (15th April 2017)
Muswellbrook Railway Station (16th & 17th April 2017)
Contact Details:
Lachlan Valley Railway P: (02) 6342 4999 E: inquiries@lvr.com.au
This event is currently closed and no contact details are available