2017 HHRUFC Season Launch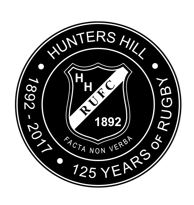 Hunters Hill Rugby Union Football Club (HHRUFC) invites you to come and mark a historic event - the launch of our 125th Season!
Hosted by new club sponsor - the Bayview Hotel in the heart of our district. This will be a great opportunity to see old friends and make new ones....and celebrate what is great about community based rugby.
The event is open to everyone from the Seniors, Juniors and Cats - and anyone else you think would enjoy an afternoon of unrivalled entertainment and comraderie.
Once again our MC will be club patron, and the 'Voice of Rugby', Gordon Bray. We will also be joined by some rugby royalty to keep you entertained and provide insight into the state of our great game (to be announced).
As in previous years, the Season Launch will also see a number of raffles and quality auctions to drive our major fundraiser for the year.
Time: 12.00 for 12.30 (4.00pm finish)
Location: Bayview Hotel -
166 Victoria Road, Gladesville
Contact: Luke McCormack (0412 461940 luke@mccormack.co)