SRHC Echuca Heritage Train Tour 2017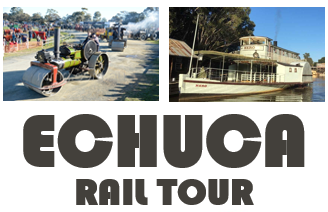 ECHUCA HERITAGE TRAIN TOUR
SATURDAY, 10th June, 2017
The Seymour Railway Heritage Centre invites you on a Heritage Train tour to Echuca.
 
Steam Rally Festival
Echuca's Steam Rally is a major community event first held in 1963 and is one of the region's longest running events attracting visitors from all over the country.
This event showcases more than 700 exhibits of working yesteryear, with steam engines valued at well over $500,000 each, vintage cars, working horses and more! There is much to see and do for all members of the family, young and old.
Paddle Steamer Hero & BBQ Lunch
Paddle Steamer Hero is a must for the whole family and steam buffs. Built well over 100 years ago in 1874, Hero is arguably the most luxurious paddle steamer operating on the Murray River today. Enjoy 2 hours along the beautiful Murray enjoying a BBQ lunch whilst taking in the beautiful Murray, (A licensed bar will be available).

 
If the Steam Rally or the total Heritage Experience isn't for you, a visit the Echuca Historical Society Museum, Port of Echuca Discovery Centre, the Holden Museum or perhaps explore the old port of Echuca would make a great option whilst in Echuca.
Your Heritage Train will be hauled by former Victoria Railways locomotives, and passengers will have the choice of travelling in comfortable 100 year old wooden bodied carriages or former Spirit of Progress steel compartment carriages. The beautifully restored 110 year old Yarra Carriage will be on your trip. 

The famous Spirit of Progress Parlour Carriage will also be on your train. Enjoy a wine or beer from our licensed bar whilst watching the beautiful countryside.
For more details visit our website - www.srhc.org.au
 
Contact Details:
Phone - 0412 124 659
Email - info@srhc.org.au
This event is currently closed and no contact details are available