2017 INDIGO FOUNDATION TRAVEL RAFFLE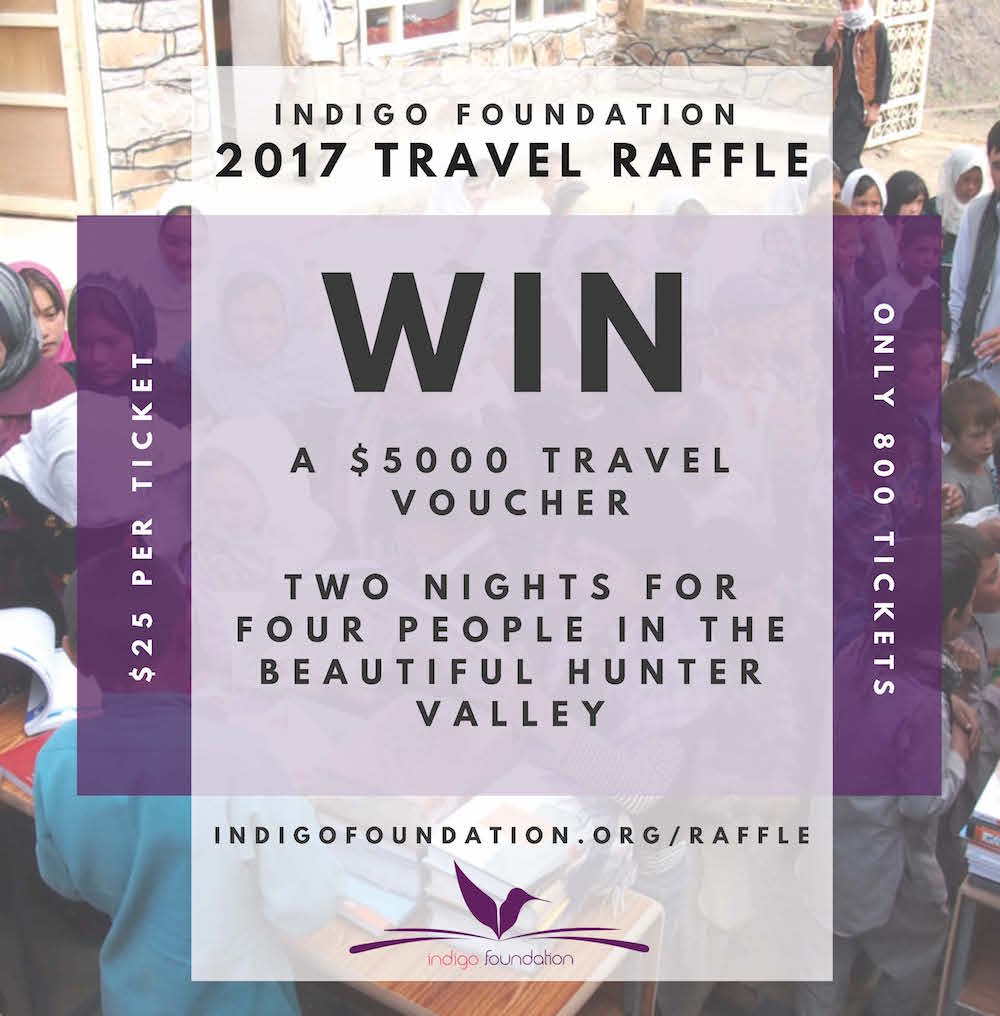 1st prize: Travel voucher worth $5,000

2nd prize: Two nights for four adults at the luxury Valley View Retreat in the Hunter Valley, valued at $900

3rd prize: Travel voucher worth $500
Tickets are $25 each. Only 800 tickets printed!
The prizes will be drawn at the University of Wollongong Library on 23 November, 2017.   
Winners will be notified by email and results published on www.indigofoundation.org on 23 November, 2017.  

Tickets may only be purchased by people over 18 years.

Raffle closes midnight 17 November, 2017. Tickets drawn 12:30pm 23 November at the University of Wollongong Library, Building 16, Wollongong Campus, Northfields Ave, Keiraville NSW 2500

First and Third prize: Travel voucher is redeemable with particpating travel agents. Not redeemable for cash or travellers cheques, but is transferable. Voucher expires 12 months from the date of the raffle draw. Travel voucher is partially redeemable (can be used across one or more trips) and it is up to the winner to use the full value of the prize within the validity period.

Second prize: Date of stay is mid-week only and excludes school holidays. Valid until 31 March, 2018.   

Indigo Foundation Inc has authority to fundraise under

Vic Permit no. 10245/17; ACT permit number no. R 17/00043; NSW Charitable Fundraising Act 1991 No. CFN/21584. ABN 81 765 707 413.
For any questions - or if you would like to be sent some raffle books to sell to your friends - please contact our Raffle Coordinator at raffle@indigofoundation.org.
Thank you so much for your support!  indigo foundation is an independent community development organisation based in Australia. Every ticket you buy will strengthen our innovative and community-led projects in marginalised communities around the world.
To find out more, visit www.indigofoundation.org 
This event is currently closed and no contact details are available