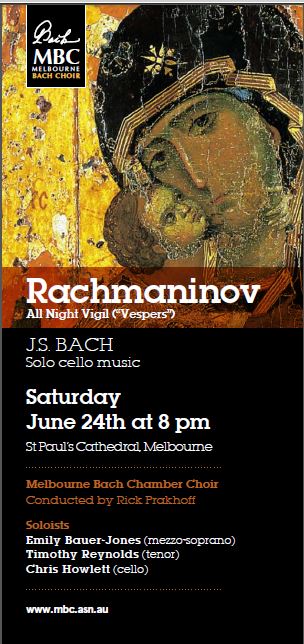 Rachmaninov  All Night Vigil ("Vespers") 
Melbourne Bach Chamber Choir
conducted by Rick Prakhoff
Sergei Rachmaninov's  All Night Vigil ("Vespers")
with selections of the J S Bach Solo Cello music
Emily Bauer-Jones, Mezzo Soprano
Timothy Reynolds, Tenor
Chris Howlett, Cello
Saturday 24 June 2017 at 8 pm 
St Paul's Cathedral
Corner of Flinders and Swanston Streets
Melbourne
Sergei Rachmaninov's All Night Vigil, first performed in Moscow in 1915, is remarkably
different from the late Romantic piano music for which he is generally known. These settings of the Russian Orthodox Vespers and morning service blend ancient Slavonic chants with richly expressive harmony.
In this concert, Rachmaninov's a cappella masterpiece is juxtaposed to excerpts from J.S.Bach's solo cello suites, played by Chris Howlett.
Contact:    Phone:   03 9898 4667           e-mail:   mbc@mbc.asn.au
Geelong performance
The concert will be repeated in Geelong as part of the Music at the Basilica Series.
8 pm Saturday 1 July 2017
The Basilica of St. Mary of the Angels
136 Yarra Street, Geelong, Victoria 3220
Tickets are available through www.trybooking/OMZZ or at the door.
Contact details:
Jeannette Phone: 5223 3554    Email: music.basilica@bigpond.com