GROVE CLASSICS 2017 SUBSCRIPTION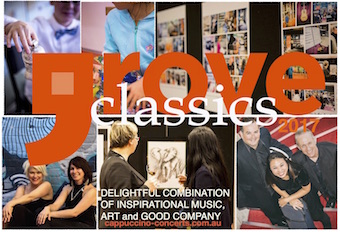 GROVE CLASSICS 2017 Concert Series Subscription: This includes entry to all 4 concerts for the year. Becoming a subscriber and purchasing your tickets in advance will secure your place at the Grove Classics 2016 concerts and give great discounts on general admission ticket prices. Your subscription ticket is transferable, so if you are not available on any of the concert dates, family or friends may use it.
The GROVE CLASSICS 2017 Chamber Music Series is an incredible mix of classical music to tempt every concert-goer, with all concerts performed by musicians of the highest calibre. The line-up for GROVE CLASSICS 2017:
June 4th: "Return to Moscow" The Book Launch Concert.
The launch concert features works by Schostakovitch, Arensky and Prokofiev. Margaret Blades (violin) Louise McKay (Cello) Irina Vasilieva (Piano) in a musical conversation with award winning author Tony Kevin.
The book "Return to Moscow" is a candid, perceptive and sometimes sentimental testimony of a foreigner attached to Russia and its history, culture, music and literature.
More: In Conversation with Tony Kevin on Return to Moscow
June 11th: "Concert sérieuse" Piano Recital with Irina Vasilieva. 
Internationally acclaimed recitalist, soloist, and chamber musician, Irina Vasilieva presenting works by Domenico Scarlatti, Ludwig van Beethoven, Felix Mendelssohn and Sergei Rachmaninoff. Irina has been the driving force behind the Cappuccino Concerts Australia, a concept which aims to bring new life and perspective to classical music. As Music Director of this organisation she is instrumental in providing world class artists the opportunity to perform in relaxed and informal settings.
June 18th: Darlington Trio.
(Graeme Gilling (Piano) Semra Lee-Smith (Violin) Jon Tooby (Cello). Come and join us for a program of sheer chamber music pleasure, featuring works by Brahms and Respighi, including Brahms' melodious and heart-warming second violin sonata as well as his mighty third piano trio. In between, will be a beautiful, contemplative rarity by Respighi, his Adagio Con Variazione – the perfect foil to the drama of Brahms, and a satisfying completion of this emotional journey!
June 25th: Ashley Smith and Friends.
Ashley Smith (Clarinet) Akiko Miyazawa (Violin)) Kate Sullivan (Violin)) Ben Caddy (Viola) Jon Tooby (Cello). Local clarinet hero Ashley William Smith is joined by some of Perth's finest string players in a program centred around Mozart's Clarinet Quintet in A major. Composed in 1789, the quintet is regarded as one of the finest works of chamber music, much-loved by performers and audiences alike. Haydn's "The Lark" String Quartet in D major dates from one year later, and enjoys a similar popularity for its soaring bird-like melody, dance-inspired minuet and energetic bubbling finale.
These two seminal works are set against Lachlan Skipworth's deeply moving clarinet quintet "The Eternal", heard here in its West Australian premiere.
Enjoy complimentary HAPPS Margaret River wine tasting and 'BLACK BOX' Visual Arts Studio Art Show.

When: Sundays, June 4th, 11th, 18th, and 25th 2017 commencing at 5pm
Where: THE GROVE Library Building, 1 Leake St (cnr Leake St & Stirling Hwy) Peppermint Grove

CAPPUCCINO CONCERTS® AUSTRALIA
CONTACT DETAILS:  Click here to submit an email enquiry using our Contact Us page
This event is currently closed and no contact details are available