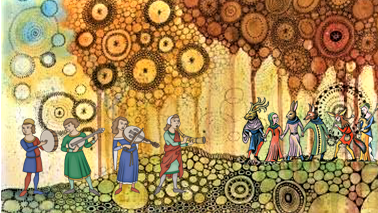 Early Music Workshop


Saturday 15 July 2017, Windsong Pavilion, Four Winds, Bermagui, NSW
At this one-day workshop you will learn and play both secular and sacred renaissance music in an ensemble setting. 
The Renaissance was for musicians an era of discovery, innovation and exploration.  In the Middle Ages vocal  music was king, but in the 16th century instrumental music was on the rise because of the new importance of playing instruments as part of education, the popularity of dancing, the invention of new instruments and the experimentation of composers.  At this workshop you will be able to learn and play dance music (eg, Playford, Santz) and sacred pieces (eg, Hassler, Schutz etc ).
Instruments:       440Hz pitch Recorders, other wind instruments (oboe/flute), strings (violin/cello/harp)
Tutor:                   Barbara Jerjen, Musician, Musicologist, Musical Director of the Canberra Recorder and Early Music Society.
Session Time:
8:30am: Registration
9.00 - 5:00pm: Workshop
Dinner (optional): 6:30pm
Cost:
$60 for the workshop
$10 if you wish to attend the Saturday dinner
Location
Windsong Pavilion, Four Winds, Bermagui, NSW, 2546
Contact Details
For further information contact Kate Jorgenson cremspresident@gmail.com or on 0428135052
Come and enjoy a day playing beautiful music in the wonderful acoustics of the Windsong Pavilion!
PRESENTED IN COLLABORATION WITH THE CANBERRA RECORDER AND EARLY MUSIC SOCIETY
This event is currently closed and no contact details are available