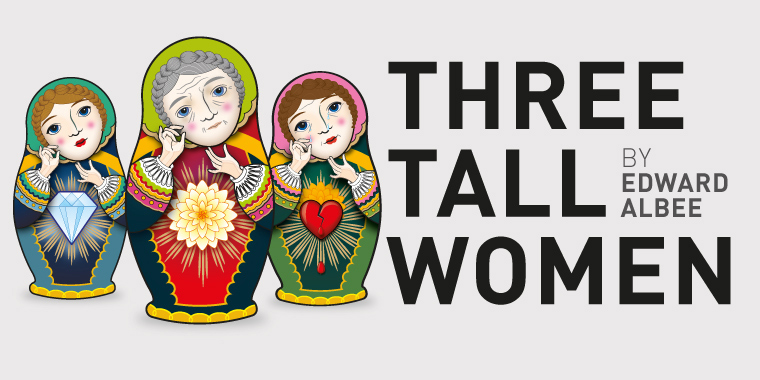 University of Adelaide Theatre Guild Inc.
proudly presents
by arrangement with Hal Leonard Australia Pty Ltd on behalf of Dramatists Play Service Inc., New York
THREE TALL WOMEN
by Edward Albee
Directed by Geoff Brittain
Designed by Ole Wiebkin
Wednesday to Saturday 9-12 & 16-19 August 2017, 7.30pm
Little Theatre, The Cloisters, University of Adelaide
"I had a premonition.  I know you say there's no such thing, but I had one.  It was I died"
The Theatre Guild and director Geoff Brittain are delighted to return to Albee's work following the hugely successful 2015 season of Who's Afraid of Virginia Woolf?
As an imperious, acerbic old woman lies dying, tended by 2 other women, she remembers the fun of her childhood, an early marriage and the optimism of youth.  But as her mind wanders, she recalls later events and bitterness creeps in, revealing disappointment, betrayal and unhappiness.   Her son arrives to kneel at her bedside.  But is it too late?
Based largely on the story of his adoptive mother, Pulitzer prize winning drama Three Tall Women is a startling and provocative portrayal of a wealthy widow looking back on her life in an attempt to solve its riddles; a journey that transports her to a landscape of reflection where generations collide and time vanishes.
Ageing and human frailty are depicted with insight, wit and a complete absence of sentimentality.  Albee lays bare the pettiness and self-deception in our lives, whilst introducing a dimension of forgiveness and reconciliation not seen in his earlier work.
Cast: Rachel Burfield, Jessica Carroll, Jean Walker and Amin Zargarian
Directed by Geoff Brittain
Design by Ole Wiebkin
Lighting Design by Scott Cleggettl
Little Theatre, The Cloisters (off gate 10, Victoria Drive) University of Adelaide
Tickets: $28 Full / $23 Concession
Group Bookings: 10+ at Concession rate
NO REFUNDS OR EXCHANGES AVAILABLE
PLEASE NOTE THAT TICKETS ARE AVAILABLE FOR PURCHASE ON THE DOOR WITH CASH FOR ALL PERFORMANCES ONCE TRYBOOKING CLOSES (4pm weekday performances, 2pm Saturday performances).
THERE IS NO NEED TO PRINT YOUR TICKET(s) BUT PLEASE PRESENT YOURSELF TO THE BOX OFFICE ON ARRIVAL SO WE CAN TICK YOUR NAME OFF THE BOOKING LIST.
WE RECOMMEND YOU ALLOW EXTRA TIME FOR PARKING WHEN THERE IS AN EVENT ON AT ADELAIDE OVAL.
 
Sessions
| | | | |
| --- | --- | --- | --- |
| Sessions | Description | Status | |
| Wednesday 9 August 2017 7:30 PM | | Open | |
| Thursday 10 August 2017 7:30 PM | | Open | |
| Friday 11 August 2017 7:30 PM | | Open | |
| Saturday 12 August 2017 7:30 PM | | Open | |
| Wednesday 16 August 2017 7:30 PM | | Open | |
| Thursday 17 August 2017 7:30 PM | | Open | |
| Friday 18 August 2017 7:30 PM | | Open | |
| Saturday 19 August 2017 7:30 PM | | Open | |
Wednesday 9 August 2017 7:30 PM
Thursday 10 August 2017 7:30 PM
Friday 11 August 2017 7:30 PM
Saturday 12 August 2017 7:30 PM
Wednesday 16 August 2017 7:30 PM
Thursday 17 August 2017 7:30 PM
Friday 18 August 2017 7:30 PM
Saturday 19 August 2017 7:30 PM