Slamin Tennis & Fitness
Term 3 2017 Tennis Programs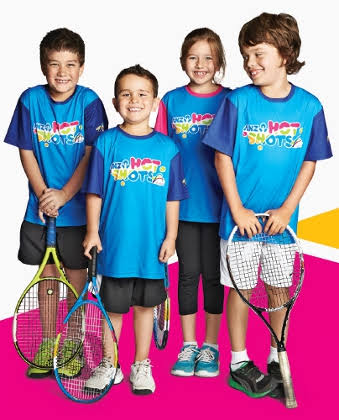 Give your child or yourself the opportunity to have fun, get fit and learn lifelong skills with Australia's greatest game - TENNIS, brought to you by Slamin Tennis & Fitness.
Term 3 - 2017
Lesson Times:  
Monday to Friday from 7:00am to 9:00pm
Saturday all day from 7:30am
Lesson Locations:
Doncaster Tennis Club
St. Gregory's Tennis Club
Donvale Christian College
Doncaster Primary School
St. Peter & Pauls Primary School
Doncaster Gardens Primary School
Our Lady of the Pines Primary School
Donburn Primary School
Group Lesson Cost: Prices include 2.1% credit card fee & 0.50c transaction fee)
$185.00 (10 x 45 minute Junior lessons)
$236.00 (10 x 60 minute Teenagers Lessons)
$241.00 (10 x 90 minute squad training)
$266.00 (10 x 2 hour squad training)
$246.00 (10 x 60 minute adult lessons)
Private Lesson Cost: Prices include 2.1% credit card fee & 0.50c transaction fee)
$460.00 (10 x 30) minute one on one private lessons 
$716.00 (10 x 45 minute one on one private lessons 
$920.00 (10 x 60 minute one on one private lessons
Payment can be made directly into our account to avoid credit card and bookings fees, or made in cash. If paying via direct deposit or cash, the students place is not confirmed until payment is received.
Account Name: Slamin Tennis & Fitness
Name of bank: Bendigo Bank
Account number: 143 067 874
Bsb: 633 000
NOTE: Please use your child's initial and surname in the description line for identification.
Coach to Group ratio:
45 min & 60 min lessons – Guaranteed maximum of (4) players per coach.
60 minute adult lessons – Guaranteed maximum of (4) players per coach.
Squad training – 6 to 8 players per coach.
Please note: Our Term is 10 lessons duration, should a lesson fall on a public holiday, you will be automatically contacted in advance for a replacement class or double lesson within the term.
 CONDITIONS:
Correct tennis footwear, ie. No school shoes to be worn.

If arriving late, parents MUST personally take their child into the lesson and inform the coach your child has arrived.

Lessons may only be discontinued at the end of the term.
What to bring:
All equipment is provided, simply wear general sports clothes and sport runners. (What you would go for a walk or play in the park wearing). Please also wear a hat, and bring a drink bottle, water taps are available, but your own water bottle is simply time saving.
Weather: Lessons may from time to time be cancelled due to poor weather. Ie. Rain, extreme heat or bushfire warnings. To determine the lessons status, please check for cancellation messages in the "News and Weather" section of our FREE APP, or call 0403 129 648 and listen to the voicemail status. If no cancellation message is shown then lessons are on as normal.
Weather Replacement classes: In the event a lessons is cancelled due to weather, a replacement class schedule is automatically e-mailed to effected students within 7-14 days. Please wait for this e-mail to arrive, as we do have to confirm several factors prior to announcing the schedule.
Individual Absence Replacement classes: We understand, players do get sick, tired, or take a holiday during a school term etc, and the odd lesson may be missed, we offer a no expiry ever policy on lessons, and we offer a 24/7 replacement class online booking systems for your convenience. Please use the "replacement class" forum in our FREE App.
Download Our FREE App: Download our free app, and stay up to date with the latest information, including replacement classes, and weather. Follow these steps to download:
Download Team App from the Apple or Google Play app store.

Sign up to Team App. You will be sent an email to confirm your registration.

Log into the App and search for "Slamin Tennis and Fitness"

Choose "Players & Officials" as your access group.

If you don't have a smartphone go to: slamintennisandfitnes.teamapp.com to sign up and view this App online.
For any additional information please feel free to contact
Head Coach
Vicky Lee
0403 129 648
Vicky@slamin.com.au
This event is currently closed and no contact details are available