Event Waitlist
Your name has been added to the wait list for this event. The event organiser will contact you through your email address once there are available seats / slots.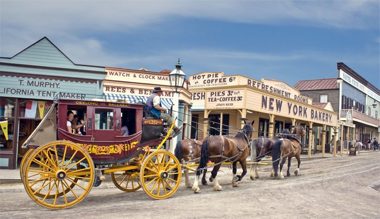 Sovereign Hill Camp
Bradshaw Street, Ballarat
Monday 11th to Wednesday 13th of September, 2017 
First Adult (Registered for Home Education in Victoria) FREE
(You must be able to supply your Victorian Home Education Registration on arrival at Sovereign Hill to receive free entry)
Children 0-4 Years FREE
(You will still need to book free tickets to register the younger children because I need to confirm attendance numbers)
Students 5 to 17 Years (HEN Members) $25
Students 5 to 17 Years (not HEN Members) $28
Additional Adults (HEN Members) $60
Additional Adults (not HEN Members) $63
Additional Adults (Concession) $50
Includes 3 days entry and optional workshops
If you have five or more children in your family then please contact me at inspiration4education@gmail.com and I will let you know if I can arrange a further discount.
Bookings close Thursday 17th of August, 2017
Please note that I will be unable to accept late bookings for this camp or for any of the workshops.
 
I am not organising an official Blood on the Southern Cross tour for the camp. However if you would like to book tickets individually for your family then you can find out more here. Please note that these tickets tend to sell out early (and will probably sell out even earlier due to the 400 plus people interested in attending the Sovereign Hill camp).

Activities:
This camp will be largely unstructured. You can wander around and explore the venue at your own pace. 
All activities are optional. You may click on any of the following links to find out more or make a booking. Please note that there are limited spaces for each activity so the activities will book out very quickly. There is a cost for the Pantomime and the Art Gallery acitivities.
Most workshops are free. Please book each of your children in for one workshop only because the spaces are very limited and I hope that as many children as possible may have an opportunity to do a workshop. I am negotiating with Sovereign Hill staff to organise a few extra workshops so there may be an opportunity to book in to additional activities at a later stage. 
Age ranges for the workshops are a little flexible so you may choose the workshop that best suits your child or your family. It is fine to book in with friends or siblings if your child is close to the age range (except for the Gold Fields Technology). If you have a child particularly interested in one of the workshops but they are just outside the age range, then it is fine to book them in (except for the Gold Fields Technology).
You may book in for the Pantomime and Ballarat Art Gallery activities as well as a workshop.
Then and Now (for 4 to 7 year olds)
Put Yourself in the Eureka Story (for 8 to 12 year olds)
Gold Fever (for 10 to 13 year olds)
VCE Outdoor & Environment Education (for 14-17 year olds)
Gold Fields Technology (Cost involved, Restricted to 10-12 year olds)
Grandma Gertie and Grandpa George (for 4 to 6 year olds)
Chinese on the Gold Fields (for 9 to 12 year olds)
You may book in for the Pantomime and Ballarat Art Gallery activities as well as a workshop.
Pantomime (for the whole family)
Ballarat Art Gallery Activities (for students aged 10 to 17 years)
There are many free activities, performances and demonstrations on each day at Sovereign Hill that you may attend as well. 
There is a large picnic area outside the café. If you would like to join the group at some stage between 12.00 noon and 2pm (whatever time your get hungry) then we can catch up with other families over lunch.

Accommodation:
You will need to organise your own accommodation (as we did with the Kryal Castle Camp). So just pick something that suits your family.
Additional Notes:
By booking in for this event you agree that your children remain your responsibility during the camp, you participate at your own risk, and that you have read and agreed to the HEN Camp Guidelines.
Please note that Sovereign Hill does not permit wearing any kind of costumes or dress ups during our visit to the museum. The staff wear costumes as an important part of the museum's interpretation of Australian history during the gold rushes. The costumes are thoroughly researched and kept to strict criteria and worn by staff and volunteers only. Please respect Sovereign Hill's policy so that we can maintain a positive relationship with the venue and represent our home education community well.
Contact Details:
Belinda Cowie
inspiration4education@gmail.com
This event is currently closed and no contact details are available