Movie Night & Silent Auction for Southern Cross Kids' Camps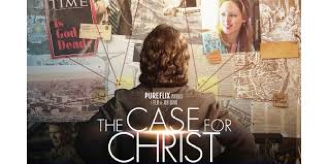 In 1980, Lee Strobel's (Mike Vogel) award-winning, investigative reporting earns him a promotion to legal editor at the Chicago Tribune. Things at home aren't going nearly as well. His wife Leslie's (Erika Christensen) newfound faith in Christ compels Lee to utilize his journalistic and legal training to try and disprove the claims of Christianity, pitting his resolute atheism against her growing faith.


All proceeds support Southern Cross Kids' Camps who provide camps for kids who have been subjected to abuse and neglect. We have been in existence for eighteen years and in 2017 there will be 13 camps across the eastern states of Australia. 
Welfare and foster organisations, social workers, school principles and chaplains refer children, 7- 11yrs old, to us. This year we will have 550 volunteers who will serve at camp. 
At Southern Cross, we provide a "week of happy memories" that will transform lives. Memories that build self-image, memories that allow kids to smile, memories that give hope that life is meant for living! 
Please click
here
to join our Facebook events page to access our Silent Auction.
$20 per ticket include a choc top ice cream.
Tickets are strictly limited so please book early!
Location
Croydon Cinema
Level 1, 3-5 Hewish Road, Croydon, Victoria
This event is currently closed and no contact details are available