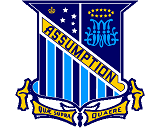 ASSUMPTION COLLEGE - KILMORE
P.O. BOX 111, KILMORE, VICTORIA 3764
PHONE: (03) 5782 1422  FACSIMILE: (03) 5782 1902
Website: www.assumption.vic.edu.au
CONDUCTED BY THE MARIST BROTHERS 
ACK Sleeps Out 2017
WHAT:  We invite year 7-12 students to join our campaign in raising awareness of homelessness by sleeping out on Friday August 25, 2017 from 6.30pm Friday to 8.00am Saturday August 26, 2017.  The cost to participate is $10 per student.
The night will be a unique experience showcasing the many challenges that homeless people face; from partaking in a simple meal to "sleeping rough" with basic bedding; a movie, a guest speaker, activities and more.
What to bring: sleeping bag, pillow, toiletries, warm clothes and a good attitude.
Snacks are not permitted. All Proceeds go to Vinnies.
To register please click the book now button.
Gonzales Centre, Assumption College
Time: 6.30pm August 25 - 8am August 26
 CONTACT DETAILS:  Cynthia Jardine
This event is currently closed and no contact details are available