TICKETING UPDATE: All remaining shows have SOLD OUT. There may be a very limited number of last minute seats each night which will be assessed after existing ticket holders are seated. You are welcome to ask at the door each night, however there are no guarantees as any remaining spots will be allocated on a first-come, first-served basis.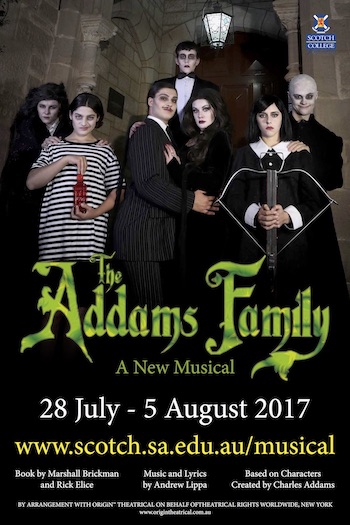 2017 College Musical
THE ADDAMS FAMILY
A New Musical
Book by Marshall Brickman and Rick Elice
Music and Lyrics by Andrew Lippa
Based on Characters Created by Charles Addams
BY ARRANGEMENT WITH ORiGiN™ THEATRICAL
ON BEHALF OF THEATRICAL RIGHTS WORLDWIDE, NEW YORK
www.origintheatrical.com.au
Friday 28 July, 7pm (Creepy Cast)
Saturday 29 July, 7pm (Kooky Cast)
Sunday 30 July, 3pm (Creepy Cast)
Thursday 3 August, 7pm (Kooky Cast)
Friday 4 August, 7pm (Creepy Cast)
Saturday 5 August, 7pm (Kooky Cast)
Fisher Chapel
Scotch College Adelaide
Carruth Road, Torrens Park
For enquiries contact the Performing Arts Secretary
Phone 8274 4210 or email performingarts@scotch.sa.edu.au
From 6pm each night, the Foyer Marquee will be open for:
- Pre-show drinks and refreshments (wine, soft drinks, water) -
- Addams Family ticket sales -
- Raffle ticket sales – prizes available for viewing -
- Light supper available: cheese platters (pre-ordered), plus other snacks -
The Scotch Performing Arts Parent Support Group is selling cheese platters for $20 each, available only when pre-ordered (please select option when booking your tickets).
The Chapel auditorium will only open approximately 15 minutes prior to the start of each performance.
Creepy Cast:
GOMEZ ADDAMS - Ris Mosel
MORTICIA ADDAMS - Onor Nottle 
WEDNESDAY ADDAMS - Isabella Mennillo
PUGSLEY ADDAMS - Olivia Sutton
UNCLE FESTER - Ned Baulderstone
LURCH - Felix Setchell
GRANDMA - Issy Darwent
LUCAS BEINEKE - Jack Raftopoulos
MAL BEINEKE - Charlie Ryan-Kane
ALICE BEINEKE - Laura Williams
                       ENSEMBLE                        
Sarah Bosboom
Billie Bowen
Max Bradford
Emily Davies
Lucy Edwards
Regan Holmes
Adele Hubmayer
Eve Linehan
Jim Martin
Annabel Montes
William Newton
Liam O'Donnell        
Georgia Raftopoulos
Phoebe Ryan-Kane
Maya Serafin-Rai
Jasmyn Setchell
Sebastien Skubala
Dylan Tonkin 
Kooky Cast:
GOMEZ ADDAMS - Jordan Tomljenovic
MORTICIA ADDAMS - Tayla Prime
WEDNESDAY ADDAMS - Hannah Hamilton        
PUGSLEY ADDAMS - Joshua Spiniello                    
UNCLE FESTER - Harry Fiedler                    
LURCH - Nicholas Burt                
GRANDMA - Charlie Miller                
LUCAS BEINEKE - Matthew Daniell            
MAL BEINEKE - Phoenix Starr Hentschke                
ALICE BEINEKE - Lola Williams
                       ENSEMBLE                       
Ella Atkins 
Louis Fielder
Sophie Fielder
Andrew Gribble
Marcus Hardy
Grace Johnston
Bella Mittiga
Imogeone Mons
Annabel Montes
Josh O'Callaghan
Naomi O'Connor
Jaden Perera
Chloe Slee
Jiaan Tu
Imogen Whalley
Hugh Whittle
DANCESTORS - both casts          
Tait Adams
Issy Darwent
Tayler Earl
Harmony Gordon
Harry McGinty
Charlie Miller
Savannah Stevenson
Olivia Stone
Georgina Taeger            
To book your tickets, please select "BOOK NOW" at the top right hand side of this screen 

This event is currently closed and no contact details are available