Father's Day Steam & Streamliners Zephyr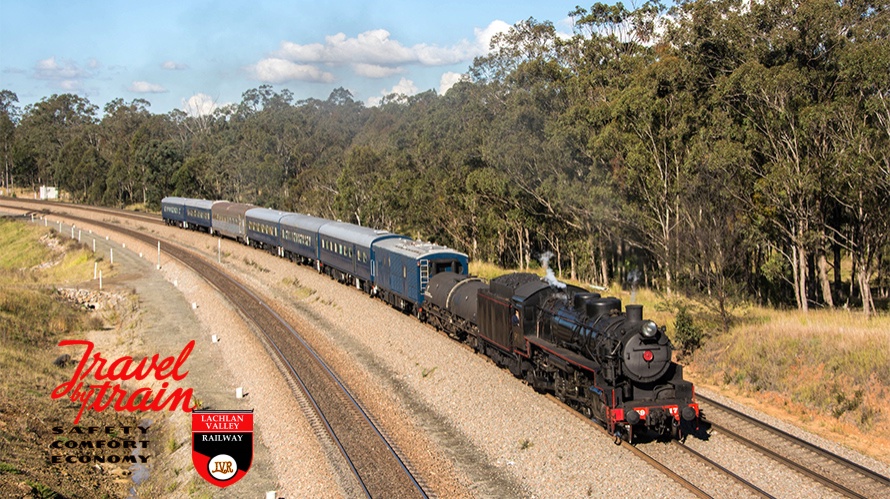 Depart from a range of Sydney Suburban Stations riding in the luxurious Blue Zephyr train behind heritage streamliner 4204 for a fast First Class run to the Hunter Valley. We will Parallel run with steam locomotive 5917 between Waratah and Maitland.
New: Singleton Steam Option Only — Join the train at Maitland at 1.30pm and enjoy the ride behind steam as the train travels to Singleton and back. Select Car 3 when booking.
You will have ample time for lunch at Maitland before an early afternoon trip to Singleton and back to Maitland behind 5917, then returning to Sydney with 4204 once again at the lead.
Proceeds from this trip are focused towards our American-built Baldwin steam locomotive 5917's tyre replacement programme.
Book your tickets now and help 'Make Our American Great Again'!
*Timetable
Outbound Trip:
(Hauled by Heritage Streamliner 4204)
Sydenham — dep 7.30am
Rhodes — dep 8.20am
Epping — dep 8.35am
Hornsby — dep 8.55am
Gosford — dep 9.45am
Parallel run with Steam Train 11.15–11.50am
Maitland — arr 11.50am
Lunch Break — Noon–1.15pm
(Hauled by Steam Locomotive 5917)
Maitland — dep 1.30pm
Return Trip:
(Hauled by Steam Locomotive 5917)
Maitland — arr 3.50pm
(Hauled by Heritage Streamliner 4204)
Maitland — dep 5.05pm
Gosford — arr 7.20pm
Hornsby — arr 8.15pm
Epping — arr 8.30pm
Rhodes — arr 8.40pm
Sydenham — arr 9.30pm
*Indicative timetable only, final timetable will be confirmed via email closer to the event.
The train is equipped with toilets, a buffet and bars.
Strictly No BYO Alcohol.  Beverages may be purchased onboard.
Location
Sydenham, Rhodes, Epping, Hornsby & Gosford Stations

This event is currently closed and no contact details are available