'Menzies: The Forgotten Speeches' London Launch--18 Aug 2017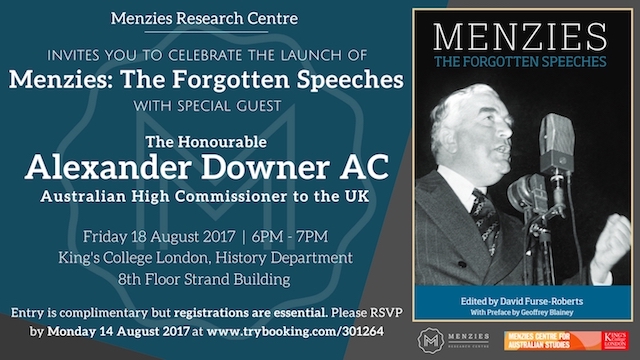 MENZIES: THE FORGOTTEN SPEECHES 
Edited by Dr David Furse-Roberts
Preface by Geoffrey Blainey 
The Menzies Research Centre is pleased to announce the release of its latest publication: Menzies: The Forgotten Speeches.
After having held successful launches in Australia's Sydney, Melbourne and Brisbane, the Menzies Research Centre is delighted to be joined by the Hon. Alexander Downer AC, Australian High Commissioner to the UK to launch this high quality publication in London, kindly hosted by the Menzies Centre for Australian Studies. 
Edited by MRC's Research Fellow Dr David Furse-Roberts, the book is a selection of previously unpublished speeches by Robert Menzies which have been retrieved from the vaults and brought back to life in a high quality volume. This publication is much more than a record of our history; it is a guide to the present that charts a path to the future.  
An introduction: Few politicians captivated an audience quite like Bob Menzies. His passion, intellect and humour speak as clearly from the printed page as when delivered from a platform. Yet remarkably, his many brilliant speeches have been largely forgotten, preserved only in original typewritten manuscript hidden in the vaults. The selection brought back to life in this volume will entertain, challenge and inspire in equal measure.
DATE


Friday, 18 August 2017
Location
Room S8.05, Level 8
King's College London 
Strand 
London WC2R 2LS 
REGISTRATIONS
Registrations close COB Monday, 14 August 2017
CONTACT
For enquiries please contact Michelle Ko at events@menziesrc.org or +61 2 6273 5608