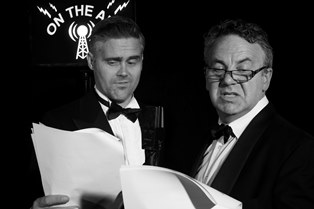 Comedy legend Michael (Big Micky) Veitch and handsome young blade Simon (The Kid) Oats revive the golden era of 1940s radio drama....50 voices + 100 sound effects = two very frazzled actors!
The golden age of radio is back!
Take a couple of hilariously antiquated radio plays; add two somewhat over-stressed actors and you're on the air with Mystery In The Air!
And this week's plays are two absolute corkers:  a cracking horror wax museum story and another of the thrilling space adventures of Flash Gordon, set in that unimaginable far-off year of 1986.  Yes, with 50 voices and a pile of live-to-air sound effects all performed by just two frazzled actors, things are jolly well going to come to a head.  But, as they say, the show must go on, if it can!
Come see the fireworks fly for yourself in Mystery in the Air!  the show that transports audiences - kicking and screaming - back to the style, the fashion and - let's face it - the sheer political incorrectness of the 1940s.  Of course, back in those days, such luxuries as a proper cast and a sound effects department were the norm, but in these economically stringent times, it's all down to just our boys - costumes, sound effects, scene changes, music, voices - they'll do the lot.  It's a big ask, and occasionally they might even succeed.
"One of the cleverest, funniest and unique shows I've seen in ages!  My face still aches from laughing.  Simon and Michael are the new Laurel & Hardy."  Hailey Cavill of Cavill & Co
"...hilarious tribut to the glamour, the style and the political incorectness that was the pre-television era." The Daily Edition

 Venue:
 

Forge Theatre - Auditorium

 Performance  Times:
 Saturday 9 September, 2:00 pm
 Duration:
 1 hour 20 minutes (Includes 20 minute INTERVAL)
 Ticket Prices:
 Adults: $23.00
 Concession: $19.00 (Seniors/Pensioners)
 Group 8+: $19.00
 Children/Students: $15.00
 

Forge Friend: Adults: $18 Concession: $14

A BFF membership card will be mailed to your postal address
The BFF discount promotion code to book your tickets online will be issued with your membership card.
Should you have any queries please telephone the Forge Theatre Monday to Friday, 10am to 4pm on 5152 1482.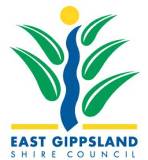 Contact: Forge Theatre and Arts Hub
Email: boxoffice@egipps.vic.gov.au
Telephone: 5152 1482
This event is currently closed and no contact details are available