Event Waitlist
Your name has been added to the wait list for this event. The event organiser will contact you through your email address once there are available seats / slots.
BLEW Heaven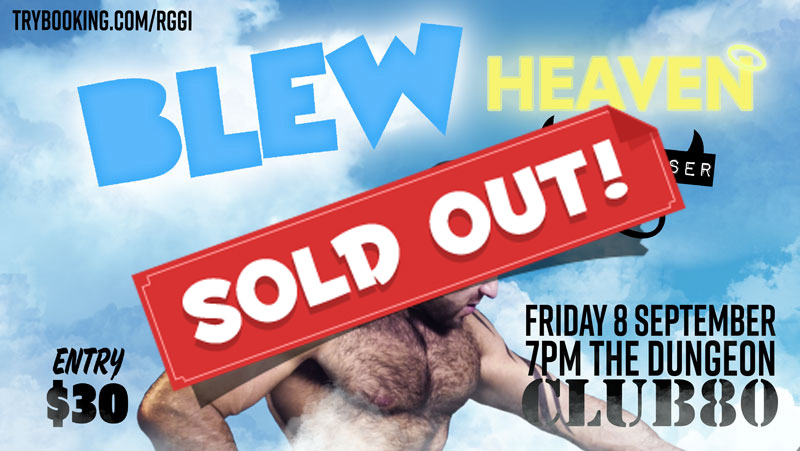 Description
BLEW Heaven: A fundraising fuckfest of heavenly proportions is SOLD OUT!!!
PAN wants to do more around PrEP awareness education. You can help us do this by giving a LOAD (of cash). Non-attendance tickets for the event are still available if you would like to donate. If you'd like to try your luck, limited door sales will be available once people cum-and-go :-)
Cum and put your prevention strategies to good use, and have a great fuck while you're at it.

Head to pan.org.au/BLEWHeaven for more info
See what PAN has been able to achieve with your help.
Details
Date: Friday, 8th September, 2017
Event Times: 7pm to Late
- Men only
- Unlicensed
- No photography
Venue:
Dungeon @ Club80
10 Peel St
Collingwood, VIC 3066
Contact
Michael - info@pan.org.au
Why another fundraiser? Well....
After the success of BLEW last year, PAN for the first time since forming in mid-2015 had the power to affect some real change.
· In January we overhauled the old PrEPaccessNOW website. It was a little tired, and needed a serious makeover. We relaunched with a new name and a new website www.PAN.org.au
· Funds raised from the BLEW party enabled us to print simple and easy to read business cards, and ship them to clinics and sexual health services all across Australia. The cards provide a plain language 'at a glace' look into the PrEP importation process – and how much PrEP is likely to cost you per month.
· Committee members were able to attend the PrEPX-SA community forum in Adelaide and provide valuable insight into the personal lived experience of PrEP users.
· We were also able to be represented as community advocates and share our PrEP journey at the NZAF PrEP forum in Auckland
· We were also able to design our very own spin on the 'Truvada Whore' shirt, emphasising the importance of access to affordable generic medications for use as PrEP (keep an eye out for those soon!)
· We were able to attend the Midsumma Carnival and distribute PrEP related information among the masses
What next?
If we are lucky, by the end of the year we will have PBS listing of at least one PrEP medication – so for many people in Australia our PrEP dreams will be realised. However the buck doesn't stop there. We have a lot of work to do to support the influx of new PrEP users who need accurate and valuable information as they navigate their own PrEP journey:
· PAN is developing a simple and plain language resource for GPs interested in prescribing PrEP in line with the ASHM (Australasian Society for HIV, Viral Hepatitis and Sexual Health Medicine) guidelines, plus a companion piece of collateral for community members.
· The committee would like to attend the 2017 ASHM conference in Canberra in November to represent and advocate on behalf of the PrEP community, something we haven't been able to afford in previous years.
· We also have a number of ongoing costs that we need to cover to keep PAN alive: web and email hosting, mail and admin costs, as well as the cost of printing and delivering business cards and other pieces of collateral we create.
Simply put, we can't do any of this without your help.
Map
This event is currently closed and no contact details are available