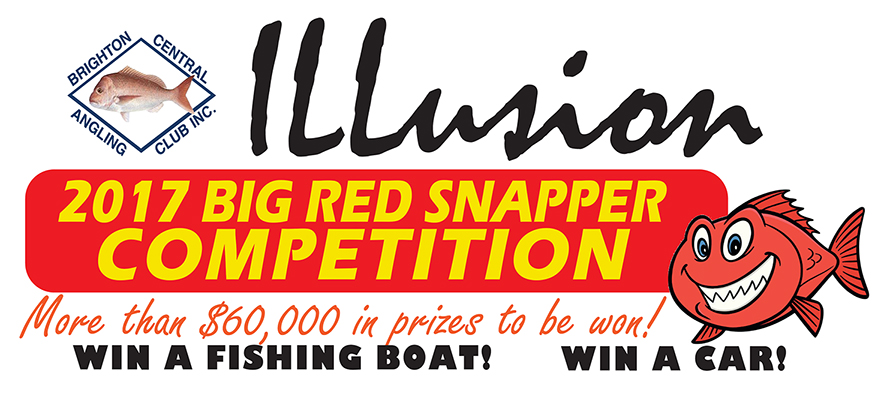 The 2017 Big Red Snapper Competition, proudly brought to you by Brighton Central Angling Club and Illusion Gas Log Fires.

Saturday 4th November and Sunday 5th November.

Over $60,000 worth of prizes to be won including the chance to

WIN A BRAND NEW TOYOTA

Strictly limited to 500 entrants.

$75 per Adult entrant / $20 per Junior entrant (under 16 years of age)
COMPETITION TIMETABLE
SATURDAY 4th NOVEMBER 2017
Lines down 2.00am
 Weigh in 11.00am to 7.00pm
Launching Way Boat Ramp, Carrum (Melways Map 97 ref D7)
and
Weigh in 11.00am to 1.00pm
Hastings Boat Ramp, Hastings (Melways Map 154 ref K11) 
SUNDAY 5th NOVEMBER 2017
Weigh-in from 10.00am until 1.00pm at
Launching Way Boat Ramp, Carrum (Melways Map 97 ref D7)
 
BBQ LUNCH FROM 12.30PM TILL 2.00PM - TICKETS REQUIRED TO REDEEM VOUCHER
PRESENTATIONS FROM 2:00PM
CLICK HERE FOR TERMS AND CONDITIONS
CLICK HERE JUNIOR COMPETITION TERMS AND CONDITIONS
Location
Launching Way Boat Ramp
Patterson River Launching Way, Carrum , VIC 3197
OPEN COMPETITION TERMS AND CONDITIONS
Big Red 2017 is a snapper fishing competition held by the Brighton Central Angling Club Inc (BCAC), on Saturday 4 November and Sunday 5 November 2017

The Big Red 2017 competition is limited to the first 500 Open competition entries

To support conservation of snapper fish stocks only the heaviest snapper needs to be weighed in. For example anglers are only required to weigh in a snapper when the have a fish that is of sufficient size to challenge a snapper listed on the BCAC face book leaders board

All anglers may weigh in one snapper per day

The minimum size limit for snapper is 40cm

Cash prizes will be awarded for the heaviest, second heaviest and third heaviest snapper

Competitors need not weigh in a snapper to claim a prize in the presentation draw

An angling competition that is fair for all, 30 snapper lucky draw prizes will be awarded to those competitors that are present at the marble draw on presentation day, you are not required to catch a snapper to be eligible to be in the draw

One snapper prize per person.

You must be present at the presentation to claim a snapper lucky draw prize
Brighton Central Angling Club Inc. encourages competitors to release any unwanted fish that they have caught in order to ensure that our fishing future is kept alive. To further reduce the number of fish killed in our waters, competitors are only required to weigh in his or her biggest fish. As a further conservation measure the club has set a minimum size on Snapper 40cm.
LEGALITIES:
Brighton Central Angling Club Inc. will not be held responsible for any damage, accidents, injuries or deaths that may occur during this event. All entrants take part at their own risk.
Should the Bureau Of Meteorology issue a Strong Wind Warning the prior to or during the Competition, the Competition will be cancelled.
The Competition will then revert to a lucky draw situation that will be held on the Sunday afternoon.
This event is currently closed and no contact details are available