Get ready for a great day for the whole family on Sunday 21st October 2018 from 8am to 2pm.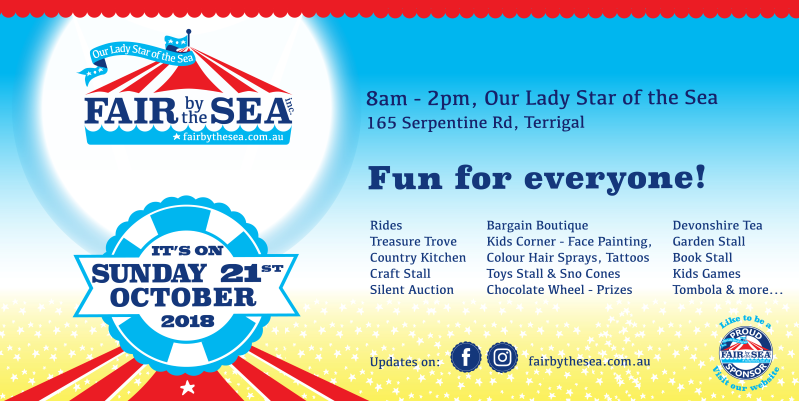 Please note that each item purchased incurs a 30c fee from Trybooking.  This will be added to your purchase before you finalise the payment.  Thank you for your understanding.
Press "Book Now" at the top of the page to purchase your raffle tickets and pre-paid unlimited ride tickets.  
Get organised, and have your child's day paid for in advance.
Ticket sales via www.trybooking.com will close on Friday 19th October at 9pm.
RAFFLE:                   
            1st Prize: $3000 cash
               2nd Prize: Supply of a Skydome DayRay® Hybrid Solar Lighting System – Daylighting is now as flexible as you want it to be! Value $660. Donated by Skydome Hunter Coast 
             3rd Prize:  1 Night Accom in an Ocean View room for 2 adults & 2 kids including hot buffet breakfast and self parking at Crowne Plaza Terrigal. Valued at $410.  Donated by Crowne Plaza
             4th Prize:  $200 mystery gift voucher
     5th Prize:   $100 voucher from Cinta Collections East Gosford.
(For purchases of raffle tickets via www.trybooking.com, an email will be sent to you immediately with your receipt.  A second email will be sent with your ticket numbers before the event.   Ticket stubs will be automatically printed and added to the raffle drum prior to drawing of the winning tickets.  If there are any queries about the ticket number allocation, please contact us on admin@fairbythesea.com.au)
UNLIMITED RIDES
This year, we will have a total of 5 rides.  The rides for 2018 are Twister, Surfs Up, Crash Course Mach 2 (inflatable), Pirate ship and Windjammer.  If weather conditions are unsuitable for Crash Course inflatable, an alternate inflatable will be operated.
Prepaid unlimited rides are $30 per ticket for purchases up to 7pm on the 19th October 2018.  Ticket purchases on the day of the Fair by the Sea are $35 for Unlimited rides and single rides are between 6 and 7 coupons.  Each coupon is $1 each.
Unlimited ride tickets can be used on any of the rides between 10am and 2pm.
Unlimited ride tickets can be collected on the day of the Fair by the Sea from the "Rides" table, near the Undercroft area.
Wet Weather
Should the fete or rides-only be cancelled before 10am due to torrential rain, Pavier Amusements will set up the rides on another day (before the end of the school year) for the children to use their pre purchased tickets. If wet weather occurs during the day it will depend on what time the rain occurs as to what refund families receive.  If the rides are cancelled after 10am but before 12pm half of the money will be refunded, and if the rides are cancelled after 12pm no money will be refunded.
Location:
Fair by the Sea @ Our Lady Star of the Sea
165 Serpentine Rd
Terrigal, NSW 2260
CONTACT DETAILS:
0425 845 401
This event is currently closed and no contact details are available