BREAKTHROUGH TO EXCELLENCE 
LEADERSHIP - SALES - PUBLIC SPEAKING
 Get all 3 business skills in a half-day action-packed workshop!! 
FREE bonus- leadership and sales essentials to complement your public speaking skills. 
IF YOU WOULD LIKE TO LEARN KEY LEADERSHIP SKILLS, THE ART OF SELLING & COMMANDING THE STAGE. YOU ABSOLUTELY MUST ATTEND THIS HALF DAY INTENSIVE SEMINAR BY AUSTRALIA'S TOP MOTIVATIONAL SPEAKER / SALES TRAINER ROBIN DAUBENY & AWARD WINNING MOTIVATIONAL SPEAKER & FOREMOST EXPERT ON COMMUNICATION AND INFLUENCE RYAN GOMEZ.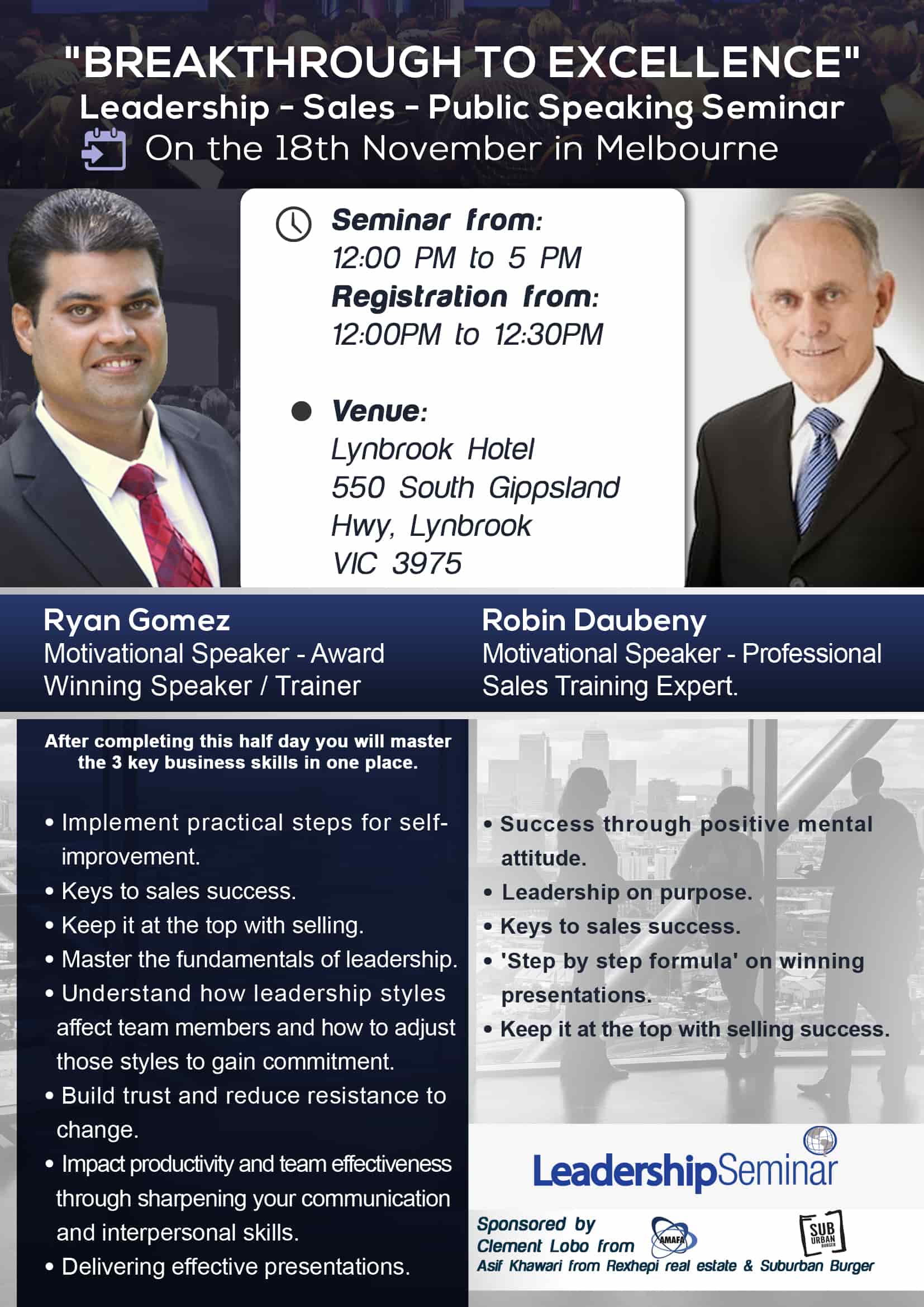 After completing this half-day sales & leadership skills workshop, participants will be able to:
Implement practical steps for self-improvement.
Master the fundamentals of leadership.
Build confidence.
Set long-term / visionary goals.
Understand how leadership styles affect team members and how to adjust those styles to gain commitment.
Build trust and reduce resistance to change.
Impact productivity and team effectiveness through sharpening your communication and interpersonal skills.
Delivering effective presentations. 
Keys to sales success.
Keep it at the top

with

selling success.
In today's competitive markets, it's winning and retaining new business that makes the difference. So it's so vital to improve your sales, deliver effective presentations and step up in your leadership skills.
 
Time : 12:00 PM to 5:00 PM 
Registration : 12:00 PM to 12:30 PM 
Some Testimonials
 George Girgis - Owner / Director of Pulse Driver Education 
Thank you, Ryan for a fantastic presentation skills workshop. I have learned so much in the time that I spent there and can honestly say that your professionalism and enthusiasm and passion for your subject clearly came through. I look forward to attending another one of your workshops as I am sure that I have much more to learn from you.
Goldin Palmer - Entrepreneur / Subway franchises owner
Ryan Gomez -thank you for an amazing workshop. You truly are an inspirational speaker & my wife & I learned a lot & enjoyed being there. Would definitely recommend your training to everyone.
Norman Fosberry -  Business Owner of Modern Indian Resturant
"You just have to trust Ryan's Presentation he is made for this truly one of the best distinction I have made". 
I recently attended a workshop held by Ryan Gomez. It was an amazing experience that taught me how to overcome my fears of public speaking and back myself to share my knowledge to the world. Ryan's humble approach really resonated with me as he explains how he too had to overcome the challenges of public speaking to now share this empowerment with others. Thank you, Ryan for a truly life changing workshop.
 
Sharon Osman - Life Coach & Marriage Celebrant
Attending your Presentation Skills workshop was quite an eye opener and very informative. Although I have had public speaking training years ago, I absorbed so much from you and was able to update my skills. Your message was delivered with confidence and clarity. You engaged with your audience while conducting yourself with Charisma and professionalism. Your deliverance was flawless and your presentation was phenomenal. Thank you & I wish you continued success in every aspect of your life. Looking forward to your masterclass. 

 
Nicole Saunders - SCION International
I am still buzzing after attending your Presentation Skills Workshop held on the 22nd April, 2017. Arriving in the morning, I was unsure what exciting topics you planned for participants during the session.  All I knew is you needed to be part of my Digital Marketing Toolbox as I like to call it.  Frequently I am absorbed behind a computer in the online world and after leaving your workshop felt I had packed some great strategies, tips, activities, practice and a better understanding that there is an " Art to Presenting".  After 1 day attending your workshop I had the confidence to secure 2 new appointments & accepted a request to 'host' an upcoming social media marketing workshop which is a fantastic result for any business owner or entrepreneur.
 
Ray Keefe - Business Owner of Successful Endeavors
If you are looking to improve your presentation and communication skills, this could be the ideal workshop for you. I've known and admired Ryan for several years now and can confidently recommend him. He had won international awards for his own public presentations.
This event is currently closed and no contact details are available