Please join The Australian Association of Orofacial Myology for its...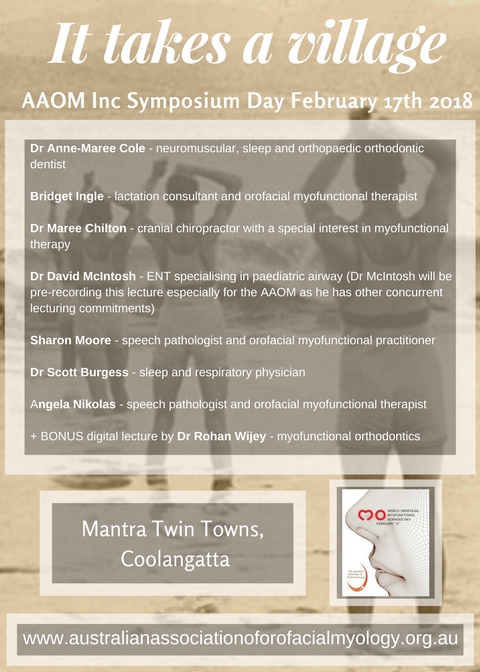 Having an interdisciplinary approach to myofunctional therapy is important in creating optimal outcomes for patients. What red flags should we be looking out for, which health professionals should we be referring to and when? This day is dedicated to promoting a team approach to care.
Dr Anne-Maree Cole 
- neuromuscular, sleep and orthopaedic orthodontic dentist 
Craniofacial growth and development - reaching
our genetic potential

Bridget Ingle - lactation consultant and orofacial myofunctional therapist Into, and out of the Mouth of Babes - oromotor challenges and optimising myofunctional outcomes for feeding the under 2yr old
Dr Maree Chilton - cranial chiropractor with a special interest in myofunctional therapy  Who's on your team?  Chiropractic care, a collaborative  approach
Dr David McIntosh - ENT specialising in paediatric airway (Dr McIntosh will be pre-recording this lecture especially for the AAOM as he has other concurrent lecturing committments)
Sharon Moore - speech pathologist and orofacial myofunctional practitioner Speech Pathology and Myofunctional Therapy - How does it work?
Dr Scott Burgess - sleep and respiratory physician  Investigating sleep disorders in children
Anglea Nikolas - speech pathologist and orofacial myofunctional therapist

+ BONUS pre-recorded lecture available to delegates Dr Rohan Wijey - myofunctional orthodontics
fees
Early bird (until 30th November 2017)
$250 AAOM members,  $390 non-AAOM members,   $200 undergraduate student
After 30th Nov 2017
$310 AAOM members, $450 non-AAOM members, $250 undergraduate students
Date
Saturday 17th February 2018 - 8.30am
Location
Mantra Twin Towns
Corner Griffith & Wharf Street, Tweed Heads , NSW 2485
This event is currently closed and no contact details are available