Kiewa Valley Camp Oven Cook Off 2017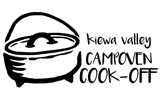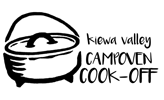 Something's Cooking in Tangambalanga
Welcome!
BECOME ONE OF THE CONSUMERS
Want to become one of the very special people that decides which team will be crowned The Champions? As a Consumer, you will be issued with the necessary equipment (plates, cutlery, napkin, voting slip) to become the ultimate judge. Two courses will be served to you, a sample of each teams' Main Course and Dessert Course. With up to 10 teams competing, that's a big feed! Make sure you have a small breakfast.
Once you have sampled this feast, it is up to you to decide who did it best! Votes from all Consumers will be totaled and ultimately decide the Cook Off Champion!
Early Bird tickets are $20ea. Thats a 20% Saving! Once the allocation is exhausted, tickets will be $25 each.
**You should find that there is enough on your plate to share with your little people. There will be a BBQ on site too just in case they are super hungry :)

For more details go to Kiewa Valley Camp Oven Cook Off or facebook.com/kiewacampoven

This event is currently closed and no contact details are available