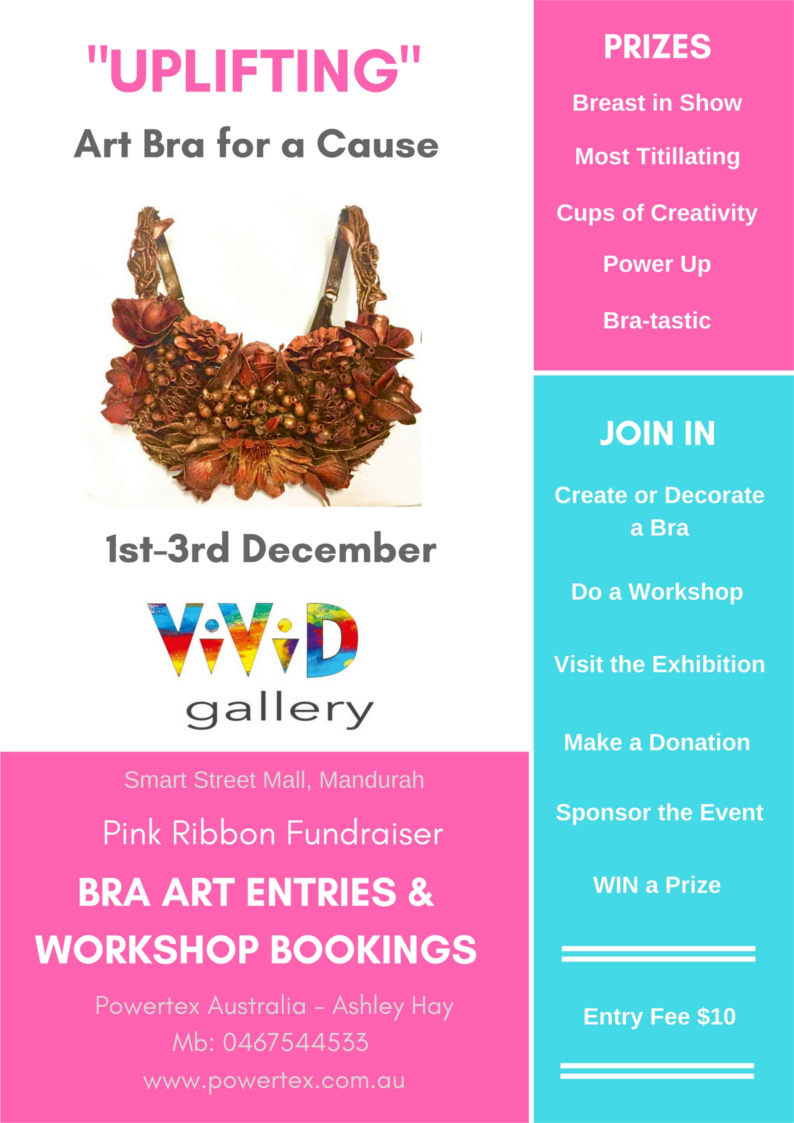 ARTIST CALL OUT: MAKE AN "ART BRA"
Application Closing Date: Extended to 24th Nov - Delivery Date: Mon 27th Nov 9am-4pm
Why should I/we make or decorate a Bra?
You and/or your group can creatively decorate an Art Bra to raise awareness about the early detection of breast cancer. Your  contribution to the "Uplifting" exhibition is a chance for the community to recognise the strength of women who have been through the breast cancer journey.
What Bra can I/we use and how do I decorate it?
You can use any Bra in your drawer that you or someone you know doesn't need anymore. Also try a local second hand store or make your own, maybe knit or weave a Bra. There is only one theme this year for the decoration of the Bras, which is 'breast cancer and screening awareness'. To decorate the Bra, you can get creative and use any materials you wish which can include (but is not limited to) glitter, beads, fabric, thread, feathers or materials which symbolise the theme of breast cancer awareness.
Can I do this with a group?
Yes, it's highly recommended to participate in this competition and/or enter with your group of friends, colleagues or community  networks.

Other Events planned to feature the Art Bras created for "Uplifting"
Powertex Australia will be seeking further community opportunities to showcase the Art Bras created for "Uplifting" to increase awareness of Breast Cancer during 2018. This may include and is not limited to the Stretch Arts Festival Mandurah (May, 2018) and an online auction of the Bras (where artists are willing to donate them).
 
Location
VIVID Gallery
Smart Street Mall, Mandurah, WA 6210
This event is currently closed and no contact details are available