6-WEEK WELL-BEING CHALLENGE FOR BUSY WOMEN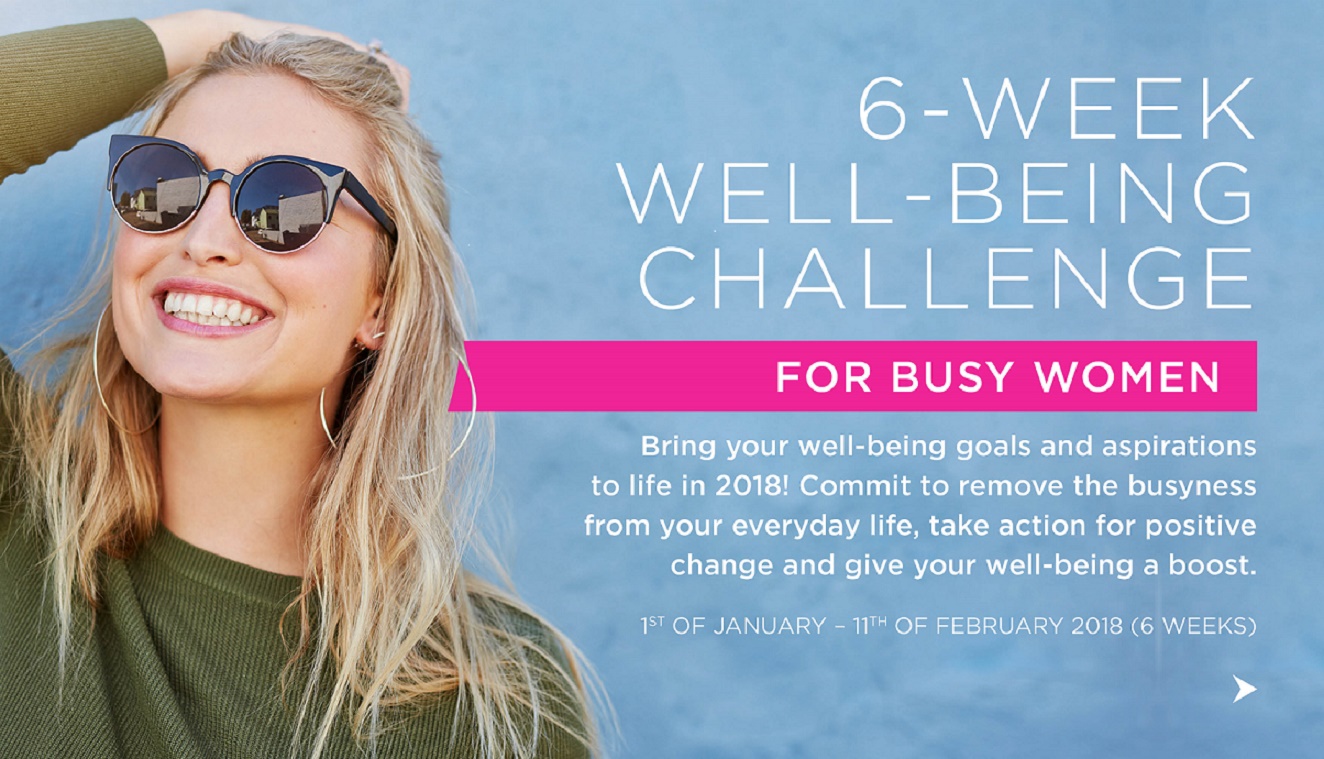 Bring your well-being goals and aspirations to life in 2018! Commit to remove the busyness from our everyday life, take action for positive change and give your well-being a boost. Our 6-Week Challenge will help you focus on what's really important so that you can spend more time doing the things you love and drop off the things that don't matter.

You will be supported by two experienced coaches and a group of fabulous women who are joining you on your well-being journey.
 
Being involved in our on-line, Well-being Challenge for Busy Women will enable you to join others to be guided, coached and mentored to keep focused on what's important in your life. 
Receive reminders, readings, helpful tips and topics, check in at our 'half way there' webinar and respond to daily questions to keep you on track to achieve your courageous well-being plan. 
Each week there will be one aspect of well-being for you to focus on and you will identify one thing you want to practice for that week to positively impact on your well-being.  You'll just need a journal and be willing to have a go and experiment and reflect on what you notice in yourself as you go through the challenge. 
It's the perfect gift for yourself or someone you love.
Activities:
Daily Reflection Questions – a simple question to explore throughout your day
Weekly Well-being Themed exercises – explore what is important to your well-being in a range of areas such as mindfulness, nutrition, sleep, exercise, relationships, work, learning
Weekly Well-being Readings to inform you and provide alternate approaches to achieving your goals
Weekend Women's Wisdom – some special guest presenters providing their take on well-being and sharing their tips, challenges, success strategies and encouragement
Half-Way There Well-being Webinar – check in, share your progress and seek support
Well-being Facebook Group to share your experiences and learn from others
Our Weekly Themes are:
Week 1: Sleep
Week 2: Movement/fitness
Week 3: Relationships/connection
Week 4: Work/role
Week 5: Creativity/learning
Week 6: Nutrition
We've identified these themes from the research we've been doing when working with women at our Well-being workshops for Busy Women - these seemed to be the most common areas women want to address with improving their well-being. However if you look a the list and think, "I've already got Movement/fitness sorted" then we'd invite you to identify another aspect of well-being not on the list to explore and you can substitute the questions we provide to explore your own theme. It might be spirituality or finances etc. The reason for having a weekly theme is so that we can all support each other in the facebook group as we go through the challenge. If you think you've got some great strategies for any of the themes, we'd love you to play the role of mentor or adviser to other women in the group.
We're offering all this for just $99 per person (plus GST + booking fee).
Are you in?
Your Well-Being Coaches:
Louise Thomson and Cynthia Mahoney are experienced leadership development facilitators and coaches. They co-founded the Driving Your Life Program almost five years ago after listening to the repetitive concerns of people, irrespective of their occupation, age or gender, who wanted to set aside time to reflect, dream, create and take action to make positive change in their lives.
2017 is Louise's 11th year in her private practice which involves working with people to become better people! In particular, better team members and brilliant leaders .... or at least leaders who people want to follow, work together and achieve worthwhile outcomes.
Cynthia is passionate about working with women to embrace their strengths, develop their life and leadership skills and live courageously. She believes that being our best selves and living purposefully we create a positive ripple effect that benefits our families, workplaces and communities as well as ourselves.
Driving Your Life Program – It's time to create and realise the life you want!
and finishes on 11 February 2018
Location
No Venue Required - You will receive information directly to your device . You will receive all the information you need, no matter where you are located.

This event is currently closed and no contact details are available