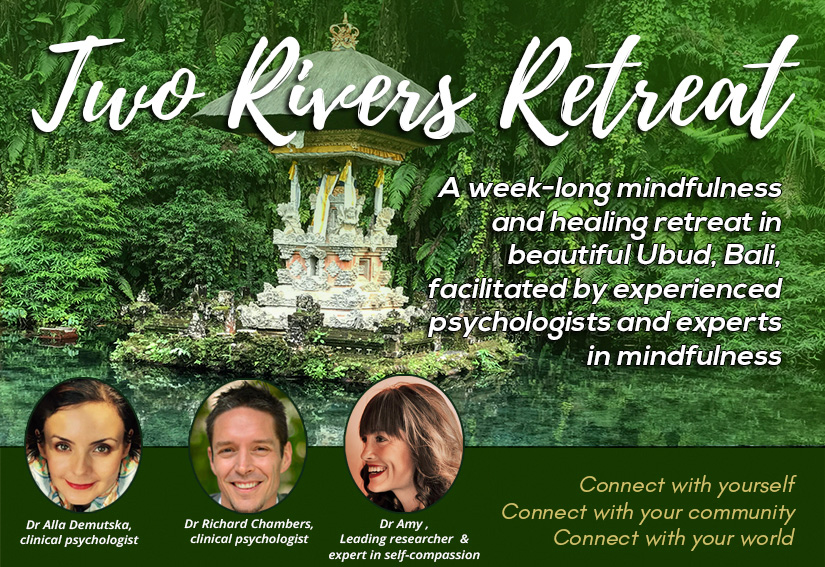 Two Rivers Retreat
Ubud, Bali, Indonesia
Connect with yourself. Connect with your community. Connect with your world.
A week-long mindfulness and healing retreat in beautiful Ubud, Bali,
by experienced psychologists and experts in mindfulness.
Do you feel you always have too much on your mind?
Are you critical towards yourself?
Do you find it is hard to relax and be present?
Do you want more satisfaction from life?
Do you want to learn valuable skills while nourishing your body and mind?
If you answered yes to any of the above questions, this retreat is for you.
With only two retreats a year, this is your chance to do something for yourself, take time off to focus on improving your quality of life and to slow down, build your resilience, connect with yourself, and learn effective tools that will change your life long after the retreat has ended.
Everything at the retreat is taken care of, so all you need is to book a place and show up, and we will to look after you! Plus with two experienced facilitators per group, you know we've got your back.
What you will get
When we give ourselves what we deserve and invest in ourselves away from our day-to-day life, we can make sustainable changes to our wellbeing! Give yourself a gift that will stay with you for the rest of your life.
Our retreats are a fun, practical exploration of the powerful skills of mindfulness and self-compassion. Run by experienced psychologists, you will learn a number of powerful tools as well as deepening your self-awareness and clarity around what is really important in life.
You will also get to relax and slow down, improve your physical health through healthy eating, meditation and yoga, and perhaps most importantly, form genuine connections with other like-minded people.
As well as relaxing and being pampered, you will learn simple, evidence-based tools to help you:
Manage your stress better

Relate to difficult thoughts and emotions in a healthier way

Be kind to yourself

Respond better to life's challenges (rather than reacting in unhelpful ways)

Develop a daily mindfulness practice and use mindful self-compassion skills in everyday life

Increase your self-awareness and learn how to let this guide your choices and goal-setting

Be more present with yourself and others

Develop emotional resilience and balance

Improve concentration
According to recent research studies, mindfulness and self-compassion are related to reducing symptoms of depression and anxiety, better emotional well-being, relationships, and self-care.
Package highlights:
Green and peaceful location among rice fields close to Ubud, booked exclusively for our group

6 nights 5 days deluxe eco-resort accommodation at Villa Gaia (twin share rooms and one luxury dorm 4 people sharing)

Carefully curated program based on mindfulness, mindful self-compassion, and Acceptance and Commitment therapy principles

Workbook to help you take what you learn back into your everyday life

Two experienced facilitators, both of whom are experienced (clinical) psychologists

Small group size [maximum 16 people] providing community, connection, and a personalised approach for each attendee

Healthy and delicious meals each day, including local Balinese dishes, Indonesian cuisine and pan-Asian flavours.

Yoga sessions every morning

Mindful cooking class exploring local cuisine

Mindful nature walk

1 hour Balinese Massage

Transfers to and from Denpasar International Airport.
Program
Based on neuroscience and the latest research, we have put together a program combining mindfulness and self-compassion practices, as well as powerful tools from Acceptance and Commitment Therapy.
The program is interactive and engaging. It includes some theoretical background, lots of practical exercises and an opportunity to practice mindful communication so we can share experiences and learn from one another.
Timetable:
7am-8am – yoga
8am-9.30am – breakfast
9.30am-10.45am – course
10.45am-11am – morning tea
11am-12.30pm – course
12.30pm-1.30pm – lunch
1.30pm-2.45pm – course
2.45pm-3pm – afternoon tea
3pm – 4.30pm – mindful cooking class
5pm-7pm – dinner
Location
Wonderful hosts at Villa Gaia have been making their luxurious amenities available for healing retreats and escapes for over 8 years. We are lucky to have the entire place to ourselves for our 5 day-long retreat.
The Villa is nestled in the heart of terraced rice fields, a leisurely 15-minute stroll from the centre of Ubud. (All your strolls are leisurely in Ubud!)
Shared bedrooms with air conditioning, open study room with comfortable sofas and views of palm trees and rice terraces, large swimming pool, plus hot tub and sauna available 24 hours a day.
About us
As clinicians, we've spent years helping people grow, overcome challenges and unlock the joy within them. It's very personal work and it means a lot to us. We also love travelling the world. We've visited countries and connected with cultures from Mumbai to Rome. It's how we unlock the joy within ourselves. We created the Ubud Two Rivers Retreat in one of our favourite places on earth to unite these two joys and share an experience with people who want to connect, learn, and grow.
Beautiful Ubud is a peaceful Balinese mountain village only a few hours' flight from Australia. It was founded on the spot where a Javanese priest sat down to meditate at the confluence of two rivers long ago. For over a thousand years Ubud has been a place of spiritual pilgrimage and renowned as a source of healing plants and medicine. We couldn't think of a better place to relax, explore and connect.
Hi, I'm Alla.
Mindfulness and mindful self-compassion are at the core of my practices and techniques, both personally and professionally. Learning to 'live the now' is a simple and powerful principle that has changed so many lives, including my own. I know it can change yours too.
I really love working with groups. I have done so for many years in many different settings. It's intimate, connected and so fulfilling for me personally. My own experience is backed up by scientific research: supportive group work can go above and beyond individual therapy to help people heal and grow all around the world. I know it can help you too.
My experiences in Ubud have been amongst the most joyful and satisfying in my life. Walking the village streets, chatting with other travellers, enjoying yoga, visiting ancient temples, and simply having fun – each of my visits to Ubud is a pilgrimage I treasure.
So… you can see why I am so excited about this retreat!
Alla will be facilitating both retreats.
Hi, I'm Richard.
Twenty years ago, I was depressed and disengaged from my university studies when I stumbled upon mindfulness by chance. It completely changed my life. My depression lifted, I could concentrate more and my grades improved. Mindfulness also helped me develop a kinder, more compassionate relationship with myself.
In the decades since, I have taught mindfulness and self-compassion to hundreds of thousands of people around the world. I love seeing how simple, practical changes can radically improve people's lives and relationships.
This is why I'm so excited about running the retreat – I look forward to taking you deeply into these practices and helping you transform your relationship with yourself, as well as giving you practical tools you can take back to your everyday life.
Richard will be facilitating second retreat (7-13 of July).
Hi, I'm Amy.
I am passionate about to helping others cultivate more balanced, connected, and meaningful lives through compassion and mindfulness practice. My teaching draws on many years of personal practice and experience supporting others to overcome barriers to self-compassion and compassion for others. I have been fortunate to receive teaching from leaders in the field of compassion and mindfulness practice, including Pema Chodron, Tara Brach, Paul Gilbert, and many others. I am trained to deliver the Mindful Self-Compassion, Compassion Cultivation Training, and Mindfulness Based Compassionate Living programs.
My personal journey with self-compassion is linked to my experience living with a chronic illness and I am very passionate about supporting people with chronic pain, illness, and disability to work with mindfulness and compassion practices. I am not a registered Psychologist with the Australian Health Practitioner Regulation Agency.
Amy will be facilitating first retreat (1-7 of July).
Contact details
info@insightpsychologycentre.com.au
This event is currently closed and no contact details are available