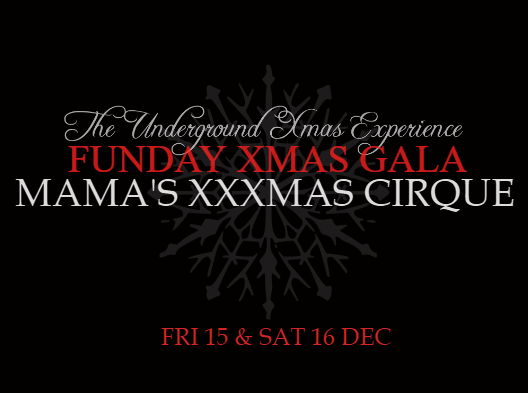 "Ain't no party like a Katorga party because a Katorga party don't stop..."
Friends and Family...Darlings and Degenerates...you are invited to the Christmas experience to end all experiences...and an unrivaled weekend of theatrical mayhem and delights!
The KATORGA Family (The Burlesque Underground) invite you to not one, but TWO evenings of ostentatious glamour, bawdy burlesque, controversial cabaret and insane improvised interactive theatre.
Beginning at the Great Britain Hotel on Friday the 15th of December with the FUNDAY XMAS GALA - an immersive theatrical end of year celebration and the finale of the 2017 BURLESQUE UNDERGROUND story arc; and concluding at Saint Martins Place on Saturday 16th December with MAMA's XXXMAS CIRQUE - a feast of burlesque and cabaret for the senses; there's something to satisfy every dark desire.
Do you like your theatre raw and all-consuming? Perhaps you'd  prefer something sweeter...laced with a little drop of poison? From freaky family frays to fetching femme fatales, the Katorga's aim to sate your need for artistic orgasm as two of their most depraved descendants lead you down the garden path and into their own special kind of depravity.

The creators and performers of The Burlesque Underground (Katorga, Welcome to the Dollhouse, The King's Carnival, My Bloody Valentine), Cirque des Femmes and Bohemia Cabaret and Burlesque bring you a weekend of wayward wonders that has to be seen to be believed...and will leave you begging for more.
Underground? Cirque?
What's your pleasure?
Why not both?
Tis the season, after all.
Let us deck your halls.

BOOK NOW!

"Confronting and bold." - TripAdvisor 
"Unapologetically sensual..." - The Weekly Review 
"Mafia meets deranged circus..." - Afflatus Magazine.
"It's nothing short of fabulous..." - Hidden Places, Secret Spaces 
"Dark...unexpected...delightful...unpredictable..." - Australian Stage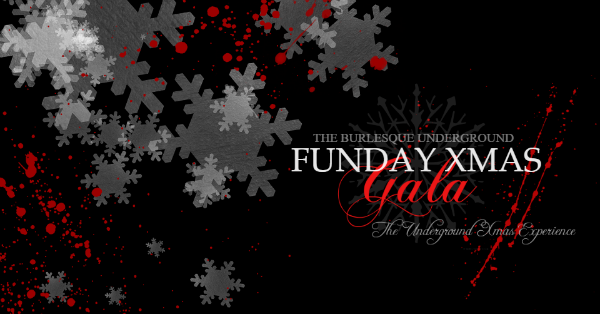 FUNDAY XMAS GALA - Friday 15th December 2017 - Great Britain Hotel (The Basement - 447 Church Street, Richmond, 3121).
Doors and live-action theatrical play begins at 7pm.
$10 General Entry
The melodramatic and mad conclusion of the BURLESQUE UNDERGROUND's 2017 season is set to go off with a bang! Join Nikolai Katorga and the Seven Families for an evening of fully interactive improvised role-play and festive celebrations. Featuring 5 hours of LARP insanity, a Secret Santa for all registered groupies and guests, pop up performances and games/play throughout the evening and the announcement of the 2017 Official Underground Award winners...plus a chance to rub shoulders with Funday's elite, this is the only Xmas party you'll need to attend this festive season!  Break the 4th wall and immerse yourself in the world of the Underground...or bring a friend and show them what it's all about! 

*This is a cocktail party affair and seating will be extremely limited. Guests are welcome to attend in or out of character for end of year celebrations. Personal gifts for family members are always welcome but are not expected. The Burlesque Underground will be collecting donations for Berry Street throughout the evening via silent auction and collection tin. This is an end of year social event and will not contain an official full-length stage show (it gets in the way of our fun ;) ).

DRESS CODE: High class formal, fetish couture, gothic glamour. Dress to impress and express. No sneakers, denim, t-shirts or hoodies.

NOTE: FUNDAY is strictly for adults 18+ and may contain gore, horror, simulated violence, simulated sexual violence, coarse language, partial nudity and images, concepts and themes that may offend. Heavy trigger warnings apply. All scripted and improvised role-play is safe, sane and consensual.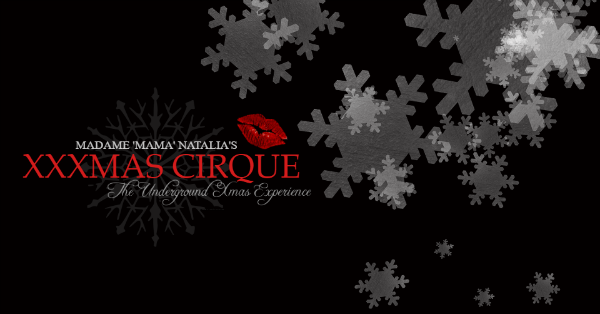 MAMA's XXXMAS CIRQUE - Saturday 16th December 2017 - Saint Martins Place (374 St Kilda Rd, St Kilda, 3182)
Doors open at 7.30pm
Stage show begins at 8pm.
Tickets $29 - $39 

Hailed as the Black Widow of Burlesque and 'Mama' of the Australian Burlesque Family, Madame Mama Natalia has been titillating and terrifying audiences for over ten years. And now, once more, she returns with her bevy of formidable burlesque beauties to the Saint Martins stage for an extra special Cirque des Femmes to see out the year and ring in the holidays.

Featuring seasoned, marinating and raw starlets from the golden age of burlesque right up to the present day, hilarious audience participation segments and fully interactive black comedy and cabaret, Mama's XXXmas Cirque is a wild bohemian ride into decadence and devious mischief...and a celebration of wickedly wanton and wonderful women.

Come and play, if you dare.
*Performers announcements coming soon.

DRESS CODE: High class formal, fetish couture, gothic glamour, burlesque showgirl, smart casual. Dress to impress and express. No sneakers, denim, t-shirts or hoodies.

NOTE: XXXMAS CIRQUE is strictly for adults 18 years and over and will contain partial nudity and coarse language.

TICKETS -
$39 CIRQUE UP CLOSE: Reserved Stage Side Table Seat (Reserved cocktail table seat front of stage)*
$39 CIRQUE ON HIGH: Reserved High Table Seat (Reserved elevated high table seat)*
$29 CIRQUE XXXMAS:  GA General (Non-Reserved Seat)
$27 CIRQUE CONC: Concession (Non-Reserved Seat)

*All reserved table seats include a complimentary ticket to FUNDAY XMAS GALA on Friday evening (see description above)

FOOD AND BEVERAGE ADD ONS -
Pre-select your Saint Martins 'Food & Beverage' special offer add-on package to complete your indulgent night out.
Add-on packages do not include show tickets, please book both separately. 
Food menu is only available via pre-booked packages below. Service starts from 7.30pm. Please arrive by 7.45pm

+$59 - XXXMAS KISS
A bottle of premium French champagne plus cognac & cinnamon strawberries with warm chocolate for dipping (served upon seating).

+$15 - SAUCY MAMA
Cranberry champagne saucer plus canape duo of vintage cheddar with caramelised red onion and a sprig of thyme, and fig & cherry jam with double cream brie and dried summer fruits on the side.

Bookings are recommended, secure your ticket on-line now. Limited tickets may be available at the door, if not sold out prior.

__________________________________________________________

Visit our website at:
http://www.burlesqueunderground.com/

Follow our blog at:
https://burlesqueunderground.wordpress.com/

Or join the ranks of the depraved:
https://www.facebook.com/groups/undergroupies/
__________________________________________________________

Management reserves all rights
Information may at times change without notice.
This event is currently closed and no contact details are available