Event Waitlist
Your name has been added to the wait list for this event. The event organiser will contact you through your email address once there are available seats / slots.
               Superhero's Underpants (Narre Warren North)

         Thinking Outside The Box
                              Early Bird ends 22 December 2017
                             Closing Date 9 February 2018
                                          Superhero's Underpants
Grade 3/4: Superhero's Underpants (Journalism) - Starting 15 February 2018
In this program you will be investigating and reporting on important questions such as: Why do superheros wear their underpants on the outside? Why does a superhero stop bullets with his chest, but ducks when you throw a revolver at him? How do those dead bugs get into those enclosed light fixtures? Why is it that no matter what color bubble bath you use the bubbles are always white? What's the speed of dark? What kind of seeds do seedless watermelons come from?
What do famous superheros do when they are not saving people? How do they fill their days? One famous alter ego was a journalist for a newspaper reporting on daily news and events. If you've ever wondered about being a journalist, then this could be the program for you.
In this program you will be a journalist for the Thinking Outside The Box Times. Your job will be to do interviews, investigate stories and write articles. You might like to write an article about some puzzling question like the ones above. You will also write an article such as a news item, a community story, a sporting story or a student council report. You also might write an article about the environment, some letters to the editor or an interesting story about someone important. There will be plenty of other newspaper sections to contribute to such as entertainment, competitions, weather, pocket money and the 'funnies'.
At the end of the program you will help produce the Thinking Outside The Box Times. You'll get your own copies to give to friends and family. And, if you decide to dress up as a superhero, you'll have to decide whether you're going to wear your underpants on the outside!
Program Information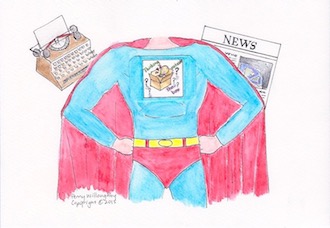 Times:   11:30am - 1:30pm                                       Day:      Thursdays (6 Weeks)                                   Dates:   15, 22 February, 1, 8, 15, 22 March
Price with Early Bird Discount: $295.00
Normal Price: $330.00
NB: All prices include GST
Venue
Narre Warren North
15-31 A'Beckett Road
Narre Warren North VIC 3804
Teacher
Rhonda Ooi
 
This event is currently closed and no contact details are available