That's Not How It Ended Gr2 (Oatlands)

         Thinking Outside The Box
                                  Closing Date 12 February 2018
That's Not How It Ended
Grade 2: That's Not How It Ended (Literacy/Writing) - Starting 21 February 2018
Then the three bears went to a football match and cheered for Goldie Locks' team to win… Jack grew beans for a living and was always poor because he had to pay the giant back… After Hansel and Gretel turned the witch into a worm, they stayed in the gingerbread house and got very fat … Cinderella decided she didn't like the wimpy prince after all and she came to my school to teach us how to do karate …
But these aren't the endings we're used to hearing! What if you don't like the way a story ends? Why not change it? Are there any stories you'd like to change? Would you make a new hero? Would you surprise other children with your different ideas?
YIn this program you will hear lots of stories that are different to what you expect. You'll rewrite well-known stories and make up your own new ones. You might change an ending, create new characters or make boring stories funny. To help you do this you'll have to think differently and be imaginative. You might like to draw pictures for your new story. You will also help the class make up a story for a puppet concert.
The best thing about this program will be that you'll love how the story ends! 
Program Information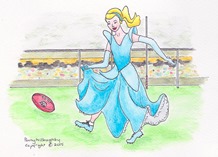 Times:   11:15am - 1:15pm 
Day:      Wednesdays (6 Weeks)
Dates:   21, 28 February, 7, 14, 21, 28 March   

Full Price:                                           $304.00 (Incl. GST) Less Oatlands PS subsidy:               -$152.00 (Incl. GST) Price for parents:                             $152.00 (Incl. GST)   
Note that this program is only open to students attending Oatlands Primary School.               
Venue
Oatlands Primary
73-93 Kurrajong Road                                                                                                                                                     Narre Warren Vic 3805
Teacher
Rhonda Ooi
 
This event is currently closed and no contact details are available