RWA's OWL: Author Branding: Why You Need It Be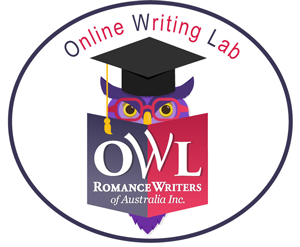 There is so much more to effective AUTHOR BRANDING than a pretty website and a catchy tagline.
Working out who you are as a writer and what you want to say is a powerful part of effectively communicating to editors, agents and (ultimately) readers. It is not something you need to leave until after you sell. It is never too early to start thinking about your author brand. Many new writers confuse BRANDING with advertising, PR or marketing but effective branding is a much more subtle mechanism. 'Branding' is not a website or a name or a sub-genre or even a style—it is reflected in all of those things yet is none of them alone.
This course seeks to define 'branding', give examples of good branding and missed branding opportunities, discuss why/how it is so effective and important, and then provide practical assistance in development of a participant's own author brand.
Week 1: BRANDING – What it is. What it isn't. The elements of a brand. This lecture will also cover the philosophy of branding.
Week 2: Brand vs. Promise vs. Positioning Statement – Breaking it down into the different parts/purposes of author branding.
Week 3: BrandYOU – how do develop/establish your own brand that succinctly reflects your writing
Week 4: Your brands discussed – looking at the strengths/weaknesses of your branding decisions
Nikki Logan has published 25 novels traditionally, digital-first and independently as well as one writing how-to, 'The Chemistry of Reading'. She was President of Romance Writers of Australia (Inc) for two years and is an experienced public speaker/presenter with a long working history in advertising, public relations and communications. She has presented to community, corporate, volunteer, library and school groups ranging from six people to one-thousand.
In 2014, Harlequin's head of Digital Publishing Malle Vallik identified Nikki's brand, A Romance With Nature, as one of four notable examples of effective author branding. She developed that brand before becoming published and has maintained it passionately for a decade. She now manages a second author brand (Gwendolyn Beynon) in a very different genre and publishing context.
Course Dates: 8th January 2018 to 4th February 2018
Cost: RWA-Member – $55.00 Non RWA-Member – $88.00 RWA-Member (Webinar Only) – $30.00
*Please note, there is a $0.30 Trybooking fee at checkout.
Online - RWA Moodle Platform
(Course attendees will be notified after booking)
RWA's OWL Courses
PO Box Q740
Queen Victoria Building
NSW 1230
Contact Details:
Pauline Johnston
OWL Registrar
owlsregistrar@romanceaustralia.com
SaveSave
This event is currently closed and no contact details are available