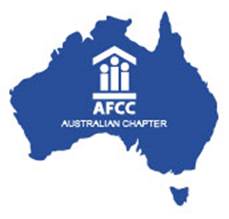 ?
"Alienation? Myths, Complexities and Possibilities..."
We are pleased to invite you to the 5th Annual AFCC Australian Conference hosted at the Hilton Hotel (233 Victoria Square Adelaide) on Thursday 16 August 2018 for The Pre-Conference Institutes and Friday 17 August 2018 to Saturday 18 August 2018 for the Main Conference.
         PRE-CONFERENCE INSTITUTES - 16 August 2018
'Introduction: AFCC Accreditation as a Family Report Writer' presented by Dr Phil Watts, Dr Jennifer Neoh and Dr Ben Jones

'Parental Alienation' presented by Professor Nicholas Bala and Mr Vincent Papaleo

'Early Intervention with Resist/Refuse Dynamics' presented by Dr Lyn Greenberg

'The Child's Objections Exception in 1980 Hague Convention Proceedings' presented by Professor Marilyn Freeman and Associate Professor Nicola Taylor

Workshop presented by Dr Phil Stahl and Mr Stephen Page

 

PLENARIES - 17 and 18 August 2018
' 'ALLEN'ation – A Child's View of Alienation' presented by Dr Robert Simon and Mr Stephen Cohen

'Parental Alienation: Social Context and Legal Responses' presented by Professor Nicholas Bala

'Attachment' presented by Judge Robyn Sexton, Professor Jennifer McIntosh and Mr Paul Lodge

'Research on the Removal of Children by Warrant and Alienation Cases' presented by Professor Mark Henaghan

 

WORKSHOPS AND PRESENTATIONS - 17 and 18 August 2018

'The Developmental Significance of Early Attachment Security, and The Trouble With Parent Conflict and Violence. New Evidence' presented by Professor Jennifer McIntosh and Dr Evelyn Tan

'The Role of Lawyers in Dealing with Parental Alienation' presented by Ms Olivia Grobtuch, Ms Jacky Campbell and Ms Elizabeth Picker

'Staying in Family Law and Keeping Your Sanity: Dealing with Clients with Personality Disorders' presented by Dr Catherine Boland

'RIFT – Reportable Intensive Family Therapy – A Four Day Single Therapist Model for Complex Family Matters' presented by Dr Jennifer Neoh

'Indigenous Issues' presented by Judge Charlotte Kelly and Judge Robyn Sexton

' "A Little Bit" of Family Violence' presented by Dr Peter Krabman and Judge Alexandra Harland

'P.E.P Talks! The Parenting Enhancement Program for Children Who Resist Time with a Parent. The Facts, Stats, Wisdom and Wonder' presented by Ms Lisa Bottomley

'What to do with Parental Hatred?' presented by by Dr Bruce Smyth

'Guidelines working with Children' and 'Mental Health Treatment Reports Submitted as Evidence in Family Court Proceedings' presented by Ms Pat Woodcock and Mr Don Tustin

'Less is Sometimes More… Being Aware of the Footprint We Leave on the Family' presented by Judge Tom Altobelli and Dr Robert Simon

'When a Child Rejects or Resists Contact with a Parent Following Separation: Developing Best Outcomes for Family Therapy' presented by Dr Janina Szyndler

'Sociological Perspectives on Parental Alienation' presented by Mr Stan Korosi and Ms Jo Fothergill

 

 

BECOME AN AFCC MEMBER TODAY!

The Association of Family and Conciliation Courts (AFCC) is an interdisciplinary and international association of professionals dedicated to improving the lives of children and families through the resolution of family conflict. It costs $160 USD to join the AFCC USA and $50 USD for the Australian Chapter of AFCC. TO JOIN click on the link below and follow the prompts (don't forget to select "Australian Chapter")
https://members.afccnet.org/become-a-member
BOOK A ROOM AT HILTON
A block of rooms has been reserved at the Hilton Adelaide from 16 to 18 August 2018. To receive the group rate please visit the following website to make your booking: http://www.hilton.com/en/hi/groups/personalized/A/ADLHITW-GAFCA-20180816/index.jhtml.
Contact Details
Sophie on 03 9458 1733 or ausafcc@gmail.com
AFCC Australian Conference 2018
Make a booking, click below
Resend tickets to your email address.
Contact the event organiser.
You can review the event organiser's terms and conditions here.
AFCC Australian Conference 2018
Contact phone: 03 9458 1733
You can review the event organiser's terms and conditions here.
If you can't find your tickets, click here.
Your email has been sent.
The organiser will be sent the details of this message.
Sorry, there appears to have been an error. Please try again later.