Sacred Spaces Fine Music Concert Series 2018 presents:
Josie & the Emeralds - Renaissance music for St Cecilia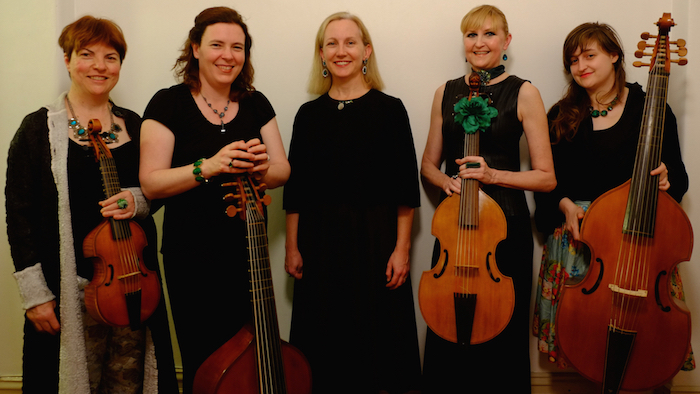 Online bookings for this concert close at midday on Sun 7th Oct. Tickets will be available at the door from 1.30pm - see you then!
Josie and the Emeralds
Renaissance music for viols and soprano - celebrating St Cecilia, the Patron Saint of Music

in the stunning Sisters' Chapel at Sacred Spaces at the Sisters of Mercy Convent
Singleton, Hunter Valley
Sunday 7 October 2018 at 2pm
Josie and the Emeralds are Josie Ryan, (soprano), and one of Australia's finest viol consorts – Laura Vaughan, Brooke Green (Music Director), Fiona Ziegler, Catherine Upex and Alice Chance.
Each year, they celebrate St Cecilia, Patron Saint of Music, with music that was performed on St Cecilia's Day in late 17th Century London, one of the most eagerly anticipated music days of the year.

This program features madrigals and consorts from the  Renaissance – including works by Lassus, Marenzio, du Mont, Phillips, Blow, Draghi and Purcell. There will also be World Premieres by Alice Chance and Brooke Green – see more information below.
Enjoy our country hospitality at afternoon tea.
Josie and the Emeralds have been critically acclaimed for their sophisticated performances and innovative programming of Renaissance and contemporary works, including compositions and arrangements by Brooke Green. Their recordings are broadcast on ABC Classic FM and their CD The Emerald Leopard is available on Tall Poppies.
For more information about the musicians, see their website.
World premieres!
The program will include two world premieres by Alice Chance and Brooke Green, featuring the virtuoso bass viol player Laura Vaughan.
To help crowdfund these new works, see australianculturalfund – project – new music for old instruments 
and for more info about Alice and Brooke, see alicechance.com and josieandtheemeralds.com – brookegreenvideo
The Sisters' Chapel at Sacred Spaces at the Sisters of Mercy Convent
30 Queen Street
Singleton, NSW 2330
In Australia's famous Hunter Valley
We are only 1 hour west of Newcastle, and under 2 hours from Sydney (Hornsby)
Tickets (include a Convent-made afternoon tea):
$35 adult; $5 school student
Please click through this site to purchase a ticket on-line, which will guarantee you a seat at the concert.
If you have a group of 8 or more, we offer a $5 discount on each adult ticket - please contact our office directly. This is only for prebooked tickets (not at the door).
Doors open at 1.30pm so that you can choose your preferred seat.


There will also be unreserved tickets available from this time.
Further info:
Sacred Spaces Office
02 6572 2398 (open Mon to Thurs)
E: office@sacredspaces.org.au
www.sacredspaces.org.au/events
Facebook: Sacred Spaces Singleton
Please let us know if you have any access requirements, or if you would like to be placed on a mailing list to find out about our concert series at Sacred Spaces.
This event is currently closed and no contact details are available