ECG Interpretation Workshop - Melbourne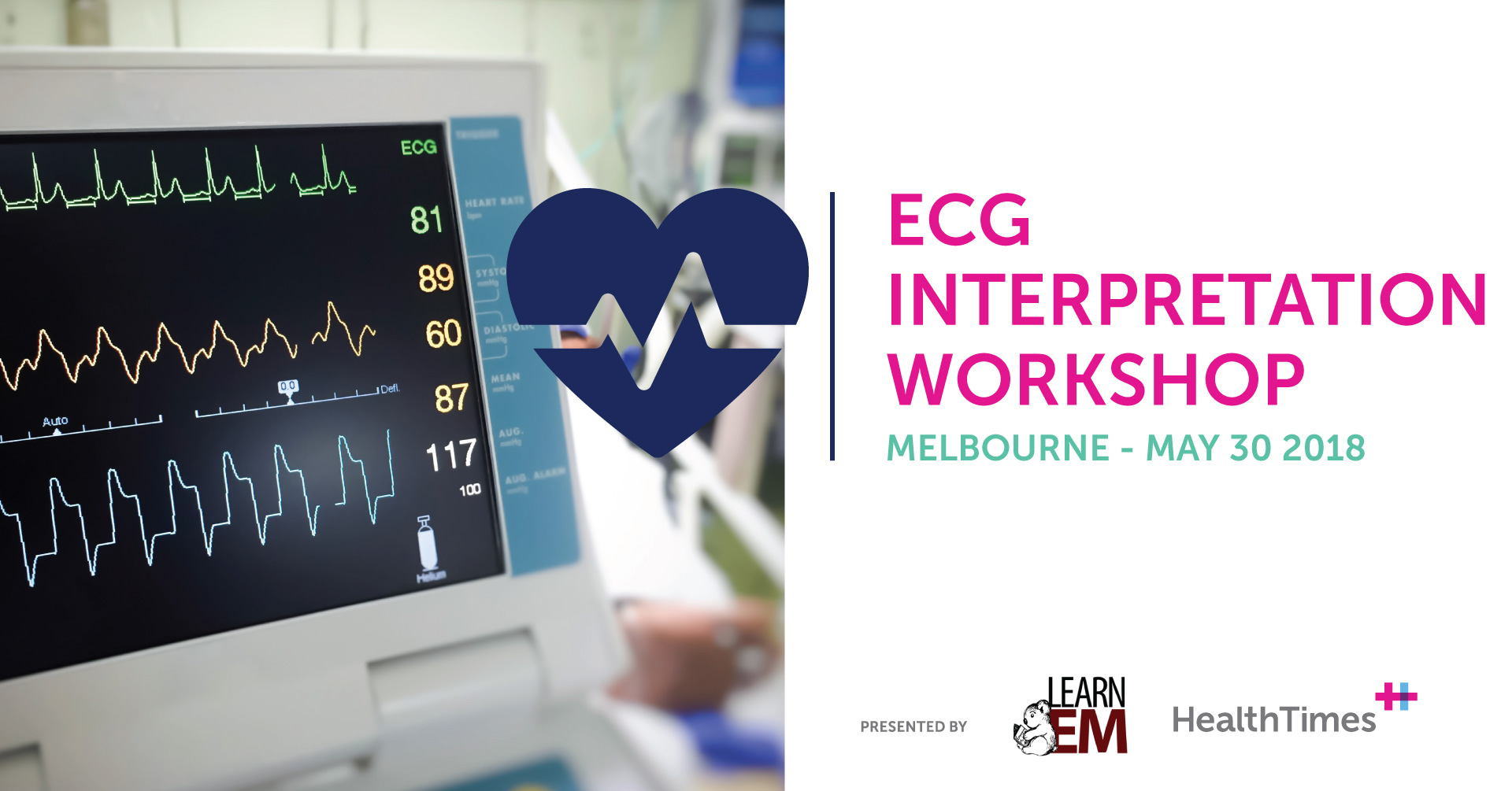 Learning to read and confidently interpret an ECG is a valuable skill for assessing and treating patients with a wide range of medical presentations including chest pain, syncope, stroke, shortness of breath and poisoning.
In this clinically based workshop you will have the opportunity to develop skills and confidence to examine ECGs and readily identify abnormalities associated with cardiac or lung disease or associated with toxicological or biochemical disorders. The workshop begins by introducing a systematic approach to examining a 12 lead ECG and relates the component of the ECG waveform to the physiological and electrical changes occurring in the heart. This provides a strong basis for the knowledge and skills required to recognise and interpret ECG abnormalities.
The workshop is delivered using an interactive, problem based approach that first allows participants to examine a series of ECGs in a small group before joining a large group discussion led by the facilitators that explores the ECG findings in detail. The workshop will specifically cover conduction abnormalities (eg bundle branch block, heart block), atrial and ventricular hypertrophy, ECG changes associated with myocardial ischaemia, pericarditis, hyperkalaemia and poisoning and the ECG interpretation of cardiac arrhythmias.
The workshop is suited to Nurses and Medical officers (GP, Registrars, TMOs, SMOs). It is also likely to be of assistance to final year medical / nursing students and to paramedics.
Course accreditations:
RACGP (Category 1 - 40 points)
ACRRM (30 PRDP Points)
Trainers/Facilitators
Dr Peter Stuart
MB BS, DRACOG, Grad Cert (ClinSim), Grad Dip (Biostats), MPH, FACEM
Staff Specialist in Emergency Medicine Modbury ED
Clinical Director, SA EMET (ACEM) program
Director - Rural Emergency Skills Program (RESP)
Clinical Lead - ALS Instructor Training Program (CHSA)
Lead Author : ABCDs of Emergency Medicine, 8th edition (ISBN 978-0-9805270-4-9)
 
Dr Jason Bament
MB BS DRACOG DCH EMDip(ACEM) MPH FRACGP FARGP FACRRM
Clinical Director, South Coast ED, Victor Harbour, South Australia,
Staff Specialist, Modbury ED, Rural GP Anaesthetist
Assistant Director - Rural Emergency Skills Program (RESP)
Area Clinical Lead - Fleurieu Peninsula, SA EMET (ACEM) program
Co - Author: ABCDs of Emergency Medicine, 8th edition (ISBN 978-0-9805270-4-9)
 
Time and Date
May 30th, 2018
Start time: 9am
End time: 5pm  
Food and Refreshments: Morning and afternoon tea provided as well as a light lunch
Location
Royal Melbourne Hospital
300 Grattan St, Parkville, Victoria 3050
This event is currently closed and no contact details are available