Yalumba The Signature Gala - A Celebration of Tradition - SOLD OUT

To celebrate the release of the 2014 vintage of The Signature Cabernet Sauvignon & Shiraz, Yalumba has partnered with acclaimed chef Jock Zonfrillo of Restaurant Orana and Bistro Blackwood to present a gala dinner on Saturday, 5th of May 2018.

Secure your place at this inaugural event at the historic family-owned winery, in the spiritual home of Yalumba's treasured wine, The Signature Cellar and enjoy an incredible four-course degustation prepared by Jock, paired with Yalumba's finest wines.
Yalumba The Signature Cabernet Sauvignon & Shiraz
The Cabernet Sauvignon and Shiraz blend is a uniquely Australian wine and one to which Yalumba has remained true since the 1880s.
The Signature is Yalumba's most sentimental devotion to this style, acknowledging the best of vintage. More importantly this wine has paid homage to the people who have enhanced the culture and embodied the values of Yalumba since 1962, a tradition that continues today.
Jock Zonfrillo & Orana
Having won a coveted Restaurant of the Year title and with two Chef's Hats to his name, Jock Zonfrillo is one of the food scene's brightest lights.
Orana, which means "welcome" in some Aboriginal languages, is home to chef and owner Jock Zonfrillo's passion, philosophy and cuisine. For more than 16 years , Zonfrillo has researched and explored the Australian land, it's produce, people and history. Orana's menu honours Australia's incredibly varied food history while celebrating the nutritional properties of Indigenous ingredients and respecting the produce's relationship with the land. He strives to integrate all of this to define Australia's modern gastronomic identity.
Together, Yalumba and Jock Zonfrillo will create an unforgettable evening, honouring this great Australian red, The Signature.
Click below to watch Jock and Yalumba's Kevin Glastonbury discuss what's in store for guests of The Signature Gala.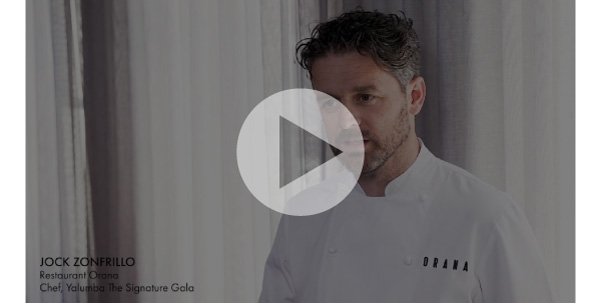 Gala Dinner:
Museum Tasting: Saturday 5th May, 2018 2- 3.30pm at Yalumba
For those of you who would like to experience more of Yalumba's history, a limited number of tickets are available for an exclusive masterclass and museum tasting with Kevin Glastonbury, current custodian and winemaker of The Signature Cabernet Sauvignon & Shiraz. 
Transport: Bus transfer is also available from Adelaide CBD for an extra cost.
NB: Museum Tasting and Transport bookings are made via the Book Now button.
Dress Code: Black Tie
Ticket price: $220 
Location
Yalumba Winery
40 Eden Valley Road , Angaston , South Australia 5353
This event is currently closed and no contact details are available