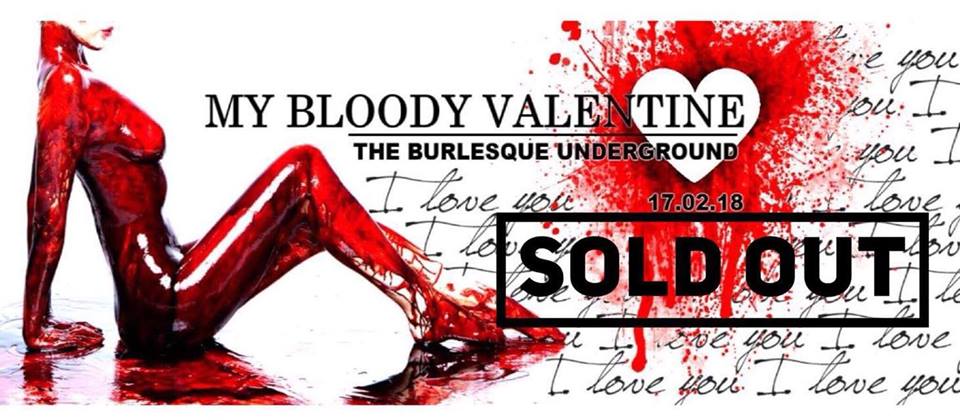 "These violent delights have violent ends...and in their triumph die, like fire and powder...which, as they kiss, consume."
L'amour...the bane of our existence, our cross to bear, and the single most deadly poison besides politics and religion. 
Join the Black Family for a devilish post-Valentine's Day night of anti-convention sentiment and salacious satire as they celebrate (and lament) that crazy little thing called love.
No-one pays homage to Saint Valentine like Jasper Black and his associates...amongst those in the know, their notorious romantic shenanigans are the talk of the town. From objectophile weddings to incestuous liaisons, bizarre love triangles to the sexual assault of the family skeletons; and a world-renowned anti-Valentine audience participation segment that will change the way you view love (and hate) forever...My Bloody Valentine is the perfect alternative to this year's warm and fuzzies.
But hold onto your hearts.
Literally.
it's gonna get messy.
Featuring live performances by the Black Family's finest artistes, plus an exclusive chance to rub shoulders with some of Melbourne's wickedly elite, this is one night to leave your inhibitions at the door and get in the mood for a whole lotta love.
Dress (or undress) to express, sharpen your talons and get ready for an evening of sinfully Dark Cabaret, Burlesque and Erotica in the Adult Playground!
The Underground.
It's burlesque with bite.
Dress ideas: Erotica couture - Formal or Glam Gothic - High class Fetish. Dress to express yourself or to impress…or even a little eccentric No sneakers, denim, caps or anything else that's going to make you look like a classless bogan. The illusion of class is everything.
__________________________________________________________
PLEASE NOTE:  My Bloody Valentine is strictly for adults 18+ and may contain gore, horror, simulated violence, simulated sexual violence, coarse language, partial nudity and images, concepts and themes that may offend. Trigger warnings apply. All scripted and improvised role-play is safe, sane and consensual. For more information contact us at burlesqueunderground@gmail.com.
Respecting the privacy of the Black family, we do not allow photos of the performances...though you are welcome to take selfies and candid snaps of your evening. We do not need to remind you, of course, that any photos of the Black Family and their associates are strictly forbidden without permission. You may of course ask. You never know, they may pose with you. Or for you. Or on you.
Read more about The Burlesque Underground on our blog: 
www.burlesqueunderground.wordpress.com
And join in the fun on the Official Undergroupies Page: 
www.facebook.com/groups/undergroupies 
__________________________________________________________
Open: 
Doors from 7pm
Doors, Bar, Lounge, Courtyard: 7pm - 10pm 
Small "Food for the Heart" Menu: 7pm - 9pm
Improvised roving performance play: from 7pm
Showroom: From approx. 7.45pm
Onstage Show: From approx 8pm
VIP Afterparty: Doors 10pm. Party post-show til 2am.
Arrive early, grab yourself a drink from the bar and a bite to eat from the StMP small "Food for the Heart" menu over a chat with friends before the show.
__________________________________________________________
Bookings are recommended, secure your ticket online now.
Online bookings close at 12pm on show day.
Limited tickets may be available on the door, if not sold out prior.
Pre-sale Tickets: 
$26 - Concession 
1 x Non-reserved seat
1 x VIP afterparty entry
$29 - General seating 
1 x Non-reserved seat
1 x VIP afterparty entry
$39 - Voyeur (From the Shadows)
1 x Reserved high table seat.
1 x VIP afterparty entry
$39 - Stalker (Up Close and Personal)
1 x Reserved premium stage-side table seat.
1 x VIP afterparty entry
'Food for the Heart' Food and Beverage Add-ons:
You can also pre-select your Saint Martins 'Food & Beverage' special offer add-on package to complete your indulgent night out (available by pre-order only).
$19 +bf  (served pre-show OR upon seating)
Drink of your choice (basic spirits, house red, white, sparkling, local beer). 
Crusty ciabatta sliced, mushroom & roasted garlic pate, spicy capsicum dip and crumbly vintage cheddar.
$48 +bf  (pre-show service)
Bottle of select Cabernet Sauvignon OR Sauvignon Blanc.
Grazing plate of Persian feta, sundried tomatoes, marinated olives, baby peppers with cream cheese, chunky basil pesto and parma ham with warmed Turkish bread.
$59 +bf  (served upon seating)
Bottle of Premium French Champagne
Cognac & cinnamon strawberries with warm chocolate for dipping.
_________________________________________________________
Venue Enq: 
0412 510 424 ~ Mon - Fri 12pm - 8pm
Please do not send text messages, as they cannot be replied to.
Venue minimum dress requirement:
Neat smart, neat casual or even a little eccentric.
No torn jeans or casual shorts, no thongs/flip-flops permitted at any time.
Parking:
Free street parking from 6pm on Martins St or St Kilda Rd
Public Transport:
www.saintmartinsplace.com.au/location 
Web: 
www.saintmartinsplace.com.au 
www.facebook.com/SaintMartinsPlace
__________________________________________________________
Management reserves all rights | Information may change without notice.
This event is currently closed and no contact details are available