Simon Gledhill - Presented by TOSAQ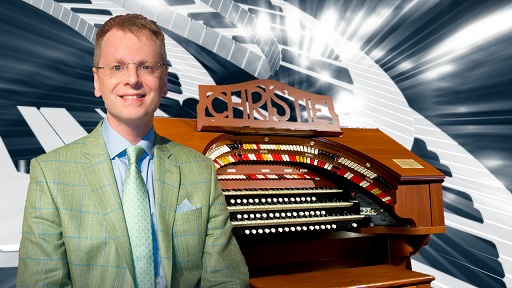 Throw everything you know about organ music out the window. TOSAQ is breaking the rules with the astonishing British virtuoso Simon Gledhill in a concert of unexpected delights. Heart-warming music meets incredible keyboard skills!
Simon will present an entertaining program of 'British Light Music' featuring the composing pens of Wally Stott, Frederic Curzon, Jack Strachey and Sidney Torch along with stunning selections from the stage and screen. Memories of Ethel Merman and Betty Grable in "Annie Get Your Gun", and other movie classics will be highlights. This concert has something for everyone.
In 1997, the prestigious American Theatre Organ Society named Simon "Organist of the Year" and in 2015 inducted him into the "Hall of Fame", recognising his contribution to this genre.

T
OSAQ will present Simon Gledhill in comfortable cabaret style seating with projection of the performance on screens from multiple cameras bringing the audience closer to the action. Enjoy complimentary a drink (wine or fruit punch) on arrival and afternoon tea at interval.
Venue
Christie Cinema Pipe Organ
Kelvin Grove State College Auditorium
Corner Tank Street & Victoria Park Road
Kelvin Grove, Queensland 4059
Further Details:
TOSAQ - Theatre Organ Society of Australia, Queensland Division, Inc.
This event is currently closed and no contact details are available