The Ramayana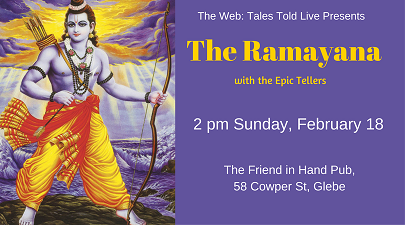 The great Indian myth, the Ramayana is the story of Prince Rama, who is banished from his kingdom and whose beautiful wife Sita is captured by a demon. Rama, with the help of his brother and Hanuman, the monkey general, must find Sita, defeat the demon, and return home.
Like any great epic, the Ramayana is not only a story about valour, duty and the triumph of good over evil but also a story of human fallacies and the full range of emotions. Ramayana is a story to be told and heard.
Epic Tellers, consisting of a mixed group of committed storytellers (all members of the Australian Storytelling Guild NSW,) aim to bring the story of Rama's journey to Australian audiences of all cultures. Epic Tellers (who also represent a range of nationalities and diverse ethnic backgrounds) believe that appreciating stories from other cultures are an important means of bringing communities together.
2pm Sunday 18th February 
Location
The Friend in Hand Pub
58 Cowper St, Glebe, Sydney, 2037
Contact Details; 
Lindy Mitchell-Nilsson 042 3417783
lindy@hearttoheartstorytelling.com
This event is currently closed and no contact details are available