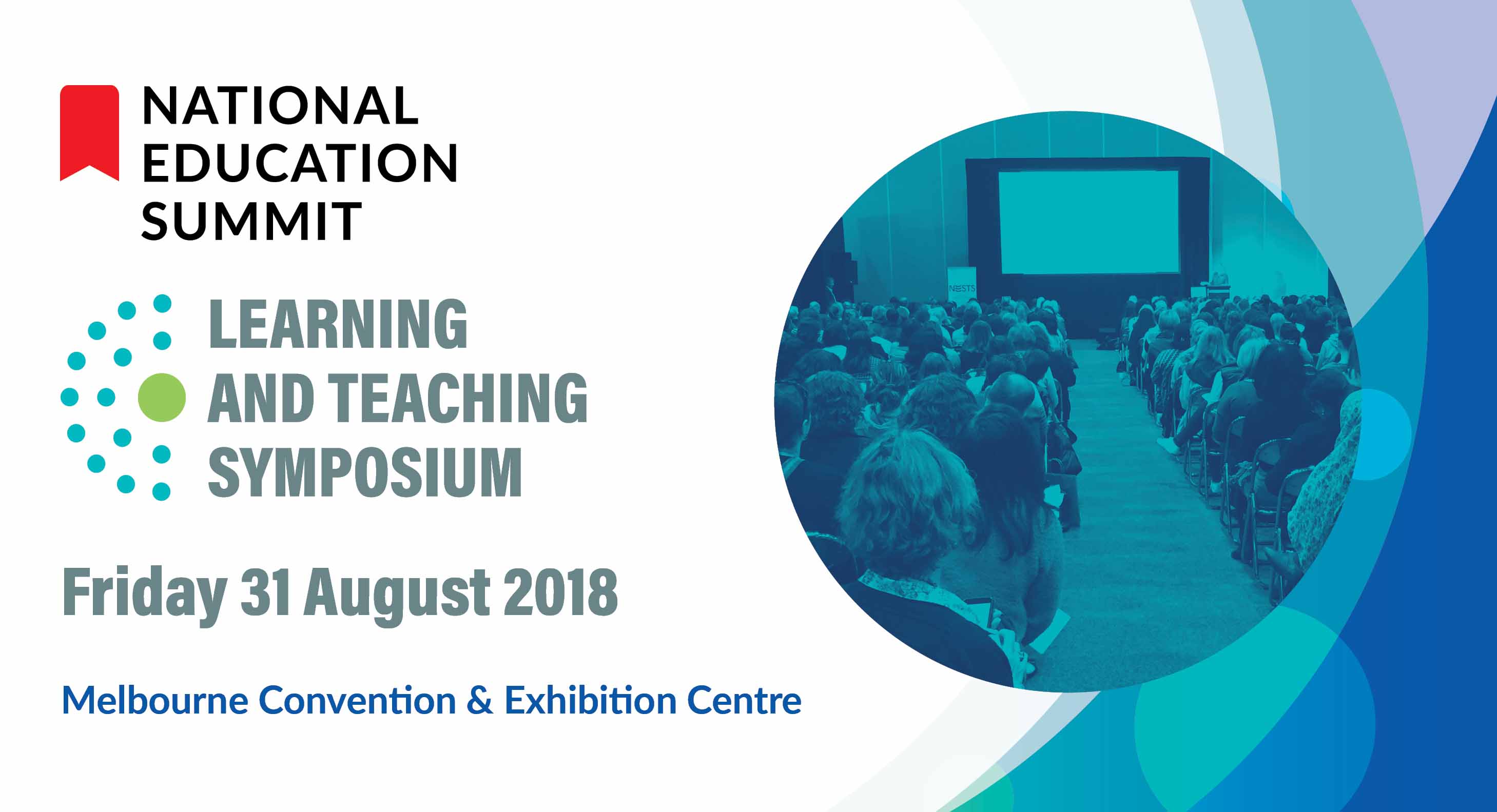 Proudly Supported by: 

School Improvement - It starts with quality instruction!

A coherent and comprehensive improvement strategy must focus on the importance of improving curriculum
and classroom instruction.
Join us at the Learning and Teaching Symposium in 2018 and be introduced to Australian speakers and
researchers, their ideas and strategies, about what works and be ready to raise the performance of your students.
Objectives:
Discover research-based, innovative strategies that are classroom ready

Deepen your understanding of quality teaching practice

Extend your teaching repertoire to include strategies that will work for all students

Engage in learning and discussions with fellow educators that will extend your thinking about current
paradigms and practices in our schools.
DATE & TIME
Friday 31 August 2018
8.30am  - 3.45pm (Registration from 8am)
TICKETS
Early Bird* Registration - $275
Full Registration - $302.50
PLEASE NOTE
Group bookings are available & all prices are inclusive of GST
Early Bird price ends on Friday 27 April 2018
Payment is by Visa and MasterCard or if you wish to be invoiced, please ensure you select the Invoice Request Ticket Type only in the next screen - there is no need to select a single ticket as well as an invoice request.
FREE TRADE SHOW
100+ exhibitors showcasing school resources, products, services and technology for classrooms, schools and careers.
Times:
9:00am - 5:00pm, Fri 31 Aug 2018
9.00am - 4:00pm, Sat 1 Sept 2018
More details can be found at www.theeducationshow.com.au
LOCATION
Melbourne Convention & Exhibition Centre
2 Clarendon Street
South Wharf, Vic
CONTACT DETAILS

Julieanne Hancock - Conference Manager
IEC Group Pty Ltd
Level 1, 197 Bay Street, Brighton, Vic 3186
Ph: 03 9596 9205
E: julieanne@iecgroup.com.au
Please note this Symposium is only open to those in the Education sector. This includes principals, school leaders, business managers and educators from K-12. The event is not open to the public. The National Education Summit is held over 2 days in Melbourne where you can enjoy concurrent conferences, masterclasses and interactive seminars at the Trade Expo under the one professional development hours on all events you attend.
Learning and Teaching Symposium
Make a booking, click below
Resend tickets to your email address.
Contact the event organiser.
You can review the event organiser's terms and conditions here.
Learning and Teaching Symposium
Contact name: Julieanne Hancock
Contact phone: 0407805465
You can review the event organiser's terms and conditions here.
If you can't find your tickets, click here.
Your email has been sent.
The organiser will be sent the details of this message.

Sorry, there appears to have been an error. Please try again later.