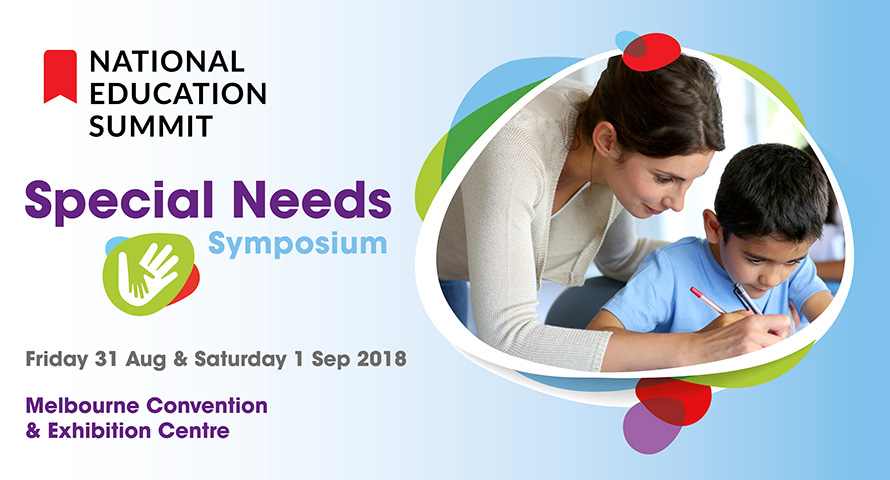 Proudly Supported by: 

SCHOOL SUCCESS FOR OUR SPECIAL NEEDS LEARNERS
A 2 day Special Needs Symposium designed to bridge the knowledge gap, dispel myths, promote research, and explore the
development of special needs in education settings.
The four key streams that will be featured for 2018 are ADHD, Dyslexia, Anxiety &
Autism Spectrum Disorder (ASD)
This Special Needs Symposium will bring educators together with the common goal of building capacity to facilitate appropriate
classroom strategies for students experiencing special needs.
Held on Friday 31 August 2018 & Saturday 1 September 2018 featuring two streams per day, you may choose to attend one
stream, two streams or all four – you choose.

Here's what you can expect.
ADHD
Explore what ADHD means for children in real terms

Learn what it means to be the carer of someone with ADHD

'What parents of ADHD kids are sick of hearing'

'5 things all parents of kids with ADHD want you to know'

The myths & half truths about ADHD

The incredible advantages of an ADHD brain if managed and supported properly

Investigate the developmental trajectories of childhood with ADHD, including the risk and protective factors for poor
versus better mental health, social and academic outcomes in this population
DYSLEXIA
Learn the biggest challenges/issues with teaching Dyslexic children in the classroom

Explore the importance of early identification and intervention

Discuss challenges in the later years being the accommodations and assistive technology

Many teachers have little or no training in teaching students with reading difficulties such as dyslexia – come and learn more
ANXIETY
Anxiety in children – how to support them

Learn how trying to control your anxiety can make it worse

Not letting anxiety dictate and control what you can and can't do

Difference between anxiety, fear & worry

Social anxiety & its impact

A comprehensive session on improving communication between paediatricians/clinicians and educators for children
with additional needs in the classroom
AUTISM SPECTRUM DISORDER (ASD)
Hear from industry professionals and special needs teaching specialists to better understand ASD

Discuss the latest research on ASD

Take away practical strategies for teaching students with ASD in the mainstream classroom

Learn how schools can best support these students in the classroom, within the school community and set the students
up for success for beyond school

Understand why creating an inclusive community must be the key of all educators
DATE & TIME
Friday 31 August 2018 - 9.00am – 3.30pm
Saturday 1 September 2018 - 9.00am – 4.00pm
TICKETS
Tickets can be purchased for each stream - ADHD, Dyslexia, Anxiety & ASD. Lunch is not included. 
Ticket per Stream
$66 inc GST - Early Bird 
$88 inc GST - Full Rate
Group Bookings available. Buy 5, pay for 4!
PLEASE NOTE
Lunch is not provided with the Symposium. 
Group bookings are available & all prices are inclusive of GST
Early Bird price ends on Friday 27 April 2018
Payment is by Visa and MasterCard or if you wish to be invoiced, please ensure you select the Invoice Request Ticket Type only in the next screen - there is no need to select a single ticket as well as an invoice request.
LOCATION
Melbourne Convention & Exhibition Centre
Inside the Education Show
2 Clarendon Street
South Wharf, Victoria
Entry via Door 15
View location & parking details here.
FREE TRADE SHOW
100+ exhibitors showcasing school resources, products, services and technology for classrooms, schools and careers.
Times:
9:00am - 5:00pm, Fri 31 Aug 2018
9.00am - 4:00pm, Sat 1 Sept 2018
More details can be found at www.theeducationshow.com.au
CONTACT DETAILS

Julieanne Hancock, Conference Manager
IEC Group Pty Ltd
Level 1, 197 Bay Street, Brighton, Vic 3186
Ph: 03 9596 9205
E: julieanne@iecgroup.com.au
Please note this Symposium is only open to those in the Education sector. This includes principals, school leaders, business managers and educators from K-12. The event is not open to the public. The National Education Summit is held over 2 days in Melbourne where you can enjoy concurrent conferences, masterclasses and interactive seminars at the Trade Expo under the one professional development hours on all events you attend.
Make a booking, click below
Resend tickets to your email address.
Contact the event organiser.
You can review the event organiser's terms and conditions here.
Contact name: Julieanne Hancock
Contact phone: 03 9596 9205
You can review the event organiser's terms and conditions here.
If you can't find your tickets, click here.
Your email has been sent.
The organiser will be sent the details of this message.

Sorry, there appears to have been an error. Please try again later.