Senior Years Info Evening and Wellbeing Expo 2018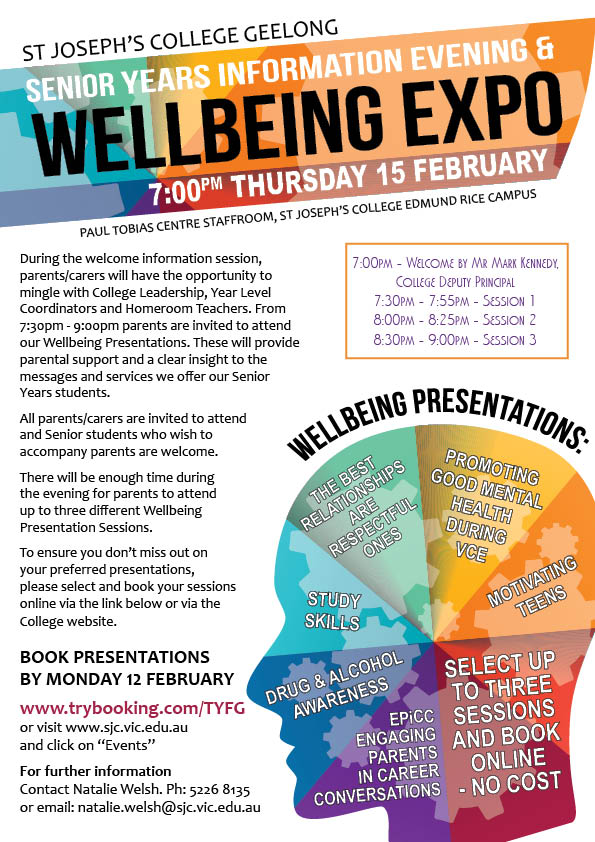 WELLBEING PRESENTATION SESSION INFORMATION:
Study Skills - Elevate Education
St Joseph's engage Elevate Education to run three study skills sessions as part of the Senior Years Wellbeing program.
Year 10 - Student Elevation               Year 11 – Study Sensai                             Year 12 – Ace Your Exams
The parent session will provide an overview of the skills that are being covered in the student class sessions including time management, goal setting, motivation, study timetabling, managing distractions and general advice for parents about how to support and implement effective study at home. There will also be opportunities to ask questions or seek particular advice.

Motivating Teens - Success Integrated
St Joseph's engage Success Integrated to run three student achievement sessions as part of the Senior Years Wellbeing program.
Year 10 – Pathways                         Year 11 – Growth Mindset           Year 12 – The Finishing Line
This session is specifically geared for parents with teenagers and concentrates on how a parent can build their child's self-confidence so that they reach their fullest potential as well as how to motivate their child to achieve both academically & in life.

Promoting Good Mental Health during VCE – College Psychologists
This session will be led from St Joseph's College's psychologists Joanne Chappell, Mari Portaro and Sarah Hanley.  Many students flourish during their VCE years, describing them as their best school years while others may experience some challenges with their mental health.  The relationship between mental health and academic achievement is well documented and this session aims to provide you with an understanding of what parents can do to support good mental health in their sons during the VCE years.  Parents will leave the session with further insight into how to assist your son to both savour his final school years and to work towards his desired goals. 

Introductory Workshop: EPiCC Engaging Parents in Career Conversations
Research indicates that parents are the single greatest influence on their child's education and career decisions. High parental engagement can have a major impact on the young person's learning. The EPiCC program was developed, for use by careers practitioners in schools, to engage parents in the career development of their children. As part of the Well Being Expo, St Joseph's College is offering parents the opportunity to participate in an EPiCC Introductory Workshop. The aim of the workshop is to:
enhance parents' ability to help young people develop skills and have the capability to manage their own career throughout their lives;

help shift perceptions by assisting parents to understand the career journey young people are on from an early stage;

equip parents to help young people to develop and build their preferred career futures, feel less worried about the future and build a supportive network to assist them; and

provide parents with the opportunity to raise concerns and ask career and pathway questions.
As part of the workshop, parents will be provided with an Australian Centre for Career Education Parent Planner, as well as links to further resources that they can use to enhance their own their children's career development.
Drug and Alcohol Awareness – Leading Senior Constable Andy Brittain
Communities, parents and the government share a responsibility to ensure that children and young people are aware of the possible consequences of drug and alcohol use and know where to go if they need help. Research shows that young people look to their parents for advice about drugs and alcohol and value their parent's point of view. Andy works closely with St Joseph's as a Police liaison officer and talks proactively with our boys about drugs and alcohol as part of our Senior Years Wellbeing program.
The Best Relationships are Respectful Ones - Ash Pike
The Victorian Government is implementing Respectful Relationships (RR) across Victorian schools and early childhood services and St Joseph's College is a lead school. As a lead school we aim to promote and model respect, positive attitudes and behaviours – and to teach our students how to build healthy relationships, resilience and confidence. 
Ash Pike is the RR Project lead for the Barwon region and has been a key driver supporting St Joseph's help other schools in the region implement a whole school approach to RR. This would be a great opportunity for parents and carers to hear from Ash and see what resources, programs and initiatives are taking place at St Joseph's to ensure our boys have happy, healthy and prosperous relationships.
 
This event is currently closed and no contact details are available