Wyndham Harbour Women's Sailing Team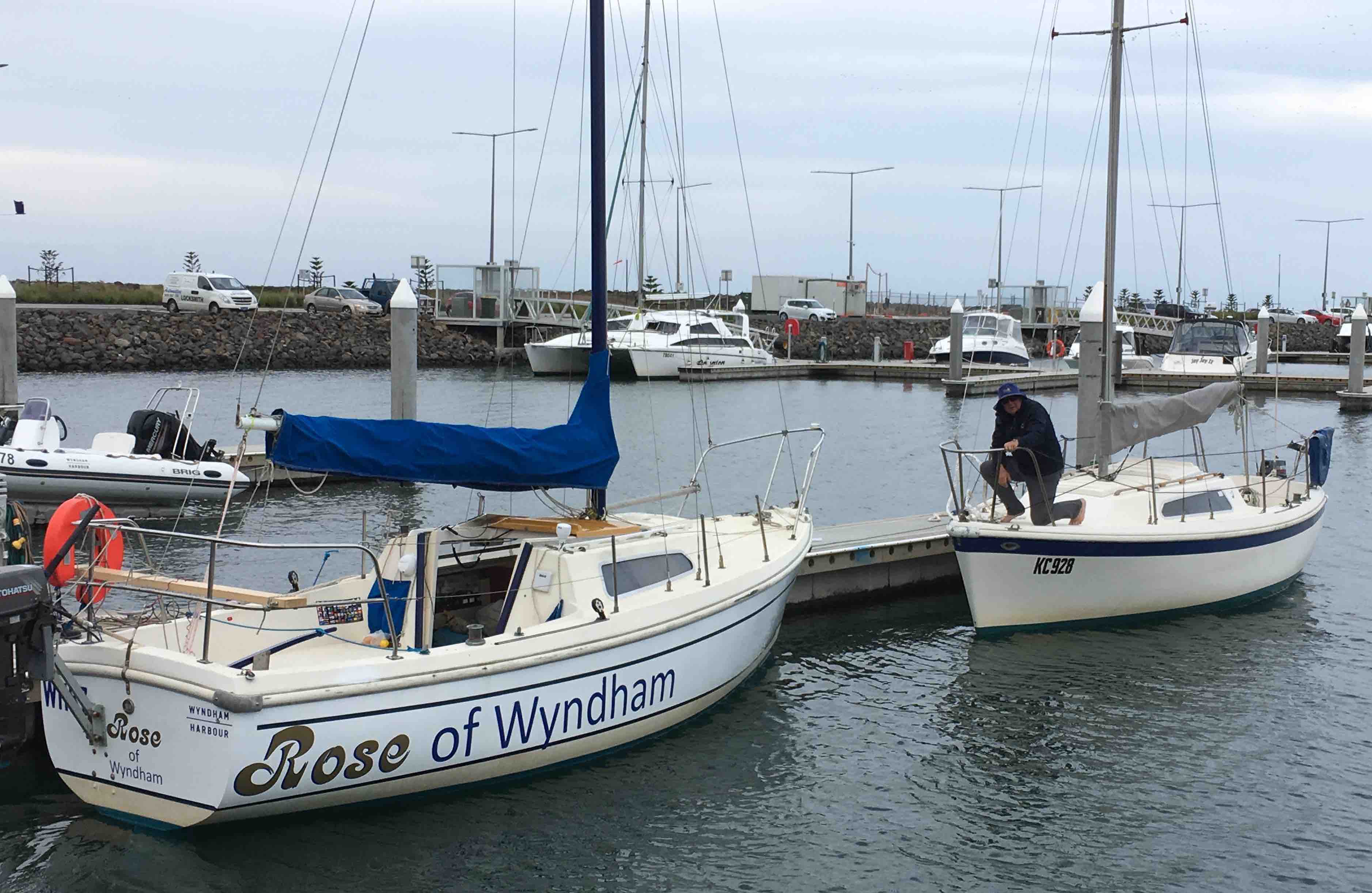 Sail Escapade is supporting women in sailing by making our Columbia 22 yachts available for the Port Phillip women's series. Each of the Melbourne based clubs run a race event and we have up to eight places available on Rose of Wyndham and James of Wyndham.
There are also occasional training sessions both on and off water for things like starting manouvres, mark rounding and Racing rules for novices.  Everyone is welcome, we prefer that you are a member of a yacht club but if not that's OK but you'll have to get a day pass for any race events. You can add yourself to our
mailing list here
or follow the Sail Escapade Facebook page to keep up with our events.  
Introduction
Sail Escapade's Wyndham Harbour Sailing school is an Australian Sailing/Royal Yacht Association training centre based at the new Wyndham Harbour facility in South Werribee.  As passionate sailors we are keen to promote opportunities for people to get involved, learn more, exercise their skills and gain confidence.  It is quite common for people to attend one or two of the two day introductory level keelboat courses available at one of the main yacht clubs and then still find it difficult to consolidate their sailing skills through sailing regularly on a boat.  Sail Escapade hopes to bridge this gap by providing a supportive environment for new sailors, and women in particular, to build their confidence.  This is where Rose, James and Duck come into the picture.
Rose, James and Duck

Sail Escapade has acquired a fleet of three Columbia 22 cruising keelboats over the past 18 months. Two of these, Rose of Wyndham and James of Wyndham, have been fully refitted such that all the working components and hull are fully functional and seaworthy including new rigging and mast refurbishment.  Check out the photos above and below so you know what to expect, these are fine seaworthy vessels, just not very sporty :). To put things in perspective, our chief instructor, RYA Yachtmaster instructor Robert Bradley, had his first sail as the skipper aboard Rose of Wyndham in 2002.  (The third boat, Duck of Wyndham, is still being refitted and is expected to be ready by the beginning of April.)  These boats are ideal for people who are starting out in sailing and would like to practice their skills on a boat where they get to try different positions including helming and tactician as well as the usual foredeck, cockpit and mainsheet.
Rosie and Jim are available for the Port Phillip Womens Championship Series (PPWCS) and the Australian Womens Keelboat Regatta (AWKR), hopefully Duck as well in a few weeks time.  In 2017 Rose of Wyndham competed in the PPWCS and both Rose and James completed the three day AWKR in June 2017.
 
What's in it for you?
The aim is to provide a range of opportunities for people to use Rose, James and Duck to further their experience and practice the skills they should have acquired by doing a basic practical course or two, ie. two to four days keelboat training.
When is it on?
The racing program is determined by the PPWCS calendar and the AWKR event in June.  In addition to these dates Sail Escapade will be organising a range of actvities to provide plenty of opportunities for people practice everything from liesurely sailing through to short course, windward - leward racing using Rose, James and Duck.  Keep an eye on the coming events via the booking button on this page and make sure you also keep an eye on the Sail Escapapde Facebook page.
What does it cost?
We try to keep costs to a minimum, however, there are things like insurance, registration, fuel, race entry fees, repairs etc.  Fortunately,
Wyndham Harbour
are providing free berthing for the boats which is a saving of over $6,000 per year per boat or $120 per week. To cover the basic operating costs there is a contribution of $20 per person per race day plus a share of the race entry, usually $10.  Expect that to amount to around $30 in total for a one day event and a bit more for two and three day events.  There is also a charge for team training events which will be in the range of $30 - $50  depending on the content and length of the session.
How do you get involved?
We have a website www.sailescapade.com.au where all our upcoming events are available.  The best way to secure a spot on a training event is to book a place via the website using the Wyndham Harbour Women's Sailing Team event.  ie. this page.
Our Facebook page is Sail Escapade which will also give you a good idea of whats going on and what's coming up.
Location
Wyndham Harbour Sailing
Wyndham Harbour Marina berth A15, Quay Boulevard, South Werribee, Victoria 3030
This event is currently closed and no contact details are available