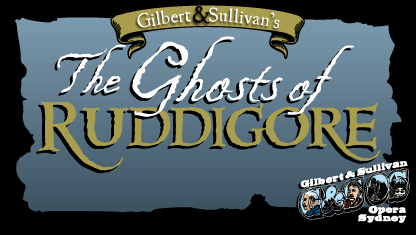 Robin Oakapple – shy, upstanding gentleman farmer – is desperate to ask lovely Rose Maybud to marry him. But he hasn't the courage! Truth is he hides a dark secret; he is the heir to a curse on all Baronets of Ruddigore and has been living in disguise to escape an evil fate. But the truth is discovered. And Robin is forced to obey the family curse that dictates he must commit a crime every day – or face a lingering death! How will he ever win Rose and return to a tranquil, virtuous life on the farm?
This hilarious parody of Victorian melodrama has it all: the villain who carries off the maiden; the primly perfect heroine; the hero in disguise; the snake in the grass; the manic, kooky damsel – plus a superfluity of bridesmaids and a host of ghosts!! Good becomes bad – and bad becomes good in the village of Rederring. And an ancestral gallery comes alive at the Ghosts' High Noon!
Our North Sydney performances are accompanied by the superb, 25-piece Gilbert & Sullivan Opera Sydney Orchestra.
Adult $45 
Concessions $39 
Child $25 
Family Ticket $110 - 2Ad2Ch or 1Ad3Ch

Group of 10+ $40pp 
Group of 20+ $35pp 
GREAT SEATS STILL AVAILABLE AT THE DOOR FOR TODAY'S SHOW!
Venue
Smith Auditorium Lyric Theatre
Shore School
Blue Street
North Sydney, NSW 2060
Contact Details:
info@gsosydney.com.au
This event is currently closed and no contact details are available