2018 Clunes Booktown Festival

The annual Clunes Booktown Festival is back on Saturday 5th and Sunday 6th May 2018, with 18,000 people expected to join the most amazing whole town bookshop experience in Australia. Headline authors this year include
Richard Flanagan, Eddie Ayres, Jaclyn Moriarty, Josephine Wilson, David Ritter and many more.
Along with author talks and panel discussions, festival-goers can discover the largest collection of rare, out-of-print and collectable books in Australia, go inside heritage buildings, listen to live music, watch street performers, take a creative writing workshop and immerse themselves in the State Library of Victoria's exhibition curated specifically for the Festival.
The Clunes Booktown Festival is all about celebrating books and the great conversations and big ideas that come from them. The Festival is turning the stereotype of rural towns on its head: from slow, dusty and dry to a hub of ideas and the arts. Join the conversation during the first weekend of May in Clunes.
Entry to the Festival
- $10 for adults
- $5 for secondary school students (aged 12 to 18)
- FREE for children under 12 years
- FREE for 3370 residents and ratepayers.
This gives access to:
- A number of selected author talks
- All booksellers, food stalls, live music, entertainment and experiences, including buskers, cartoon portraits and circus workshops and the Kids Festival area
- The Wesley College Bluestone church, which will host the State Library of Victoria's exhibition curated specifically for the Festival. Plus a collection of the best rare, antiquarian and art booksellers in Victoria.
- Many of Clunes' heritage buildings, not generally open to public access
- And supports our events program across the whole year, such as our FREE Booktown on Sunday author talks run on the third Sunday of each month, at 2pm at The Warehouse, Clunes.
This year, we will be ticketing some author talks and panel discussions - schedule available here - held in the Town Hall or the equally impressive Free Lending Library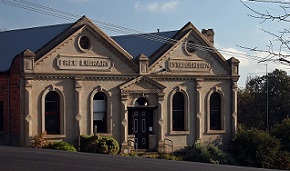 - $10 for adults
- $5 for students and children (unless sitting on a lap, in which case they are free).
We are also offering multiple sessions with many of our authors across the weekend, which can be pre-booked here, until booked out. 
Join our Facebook event to be alerted when tickets for each author talk goes live.
This event is currently closed and no contact details are available